Trade War
How we got here, what happens next and how promo businesses are reacting
More than a year into a contentious trade war with China, uncertainty remains the only sure thing. With significant tariff increases looming that include most promotional products imported from China, here's where the promo industry stands while we wait for answers.
by Brendan Menapace
May 2019
A little over a year ago, President Trump tweeted that
trade wars are "good" and "easy to win."
This was at what we could now call the beginning of constant back-and-forth action between the U.S. and China regarding exports, imports and tariffs. The timeline is long, and throughout the process the outlook has alternated wildly. Some days, it seemed like the end, a victory for the U.S., was coming any day. Others, it seemed like the war would just keep raging forever, with long-term negative effects on both economies.
Just over a year later, things aren't much clearer. There is still the ratcheting up and walking back of threats. There are still tariffs in place, accusatory rhetoric from both parties and the near constant threat of price hikes due to Chinese goods coming with significant surcharges. Basically, where we stand now is where we were a year ago: at a point of uncertainty.
It turns out that trade wars aren't necessarily easy to win, or at least as easy as President Trump might have indicated. For awhile, it seemed like talks were progressing. During a conversation at the 2019 PPAI Expo, we asked PPAI president and CEO Paul Bellantone about the state of the tariffs and how they affect promotional products companies. His stance was that they're certainly something promo businesses should be concerned about, but not necessarily something they should obsess over.
"I'm not as concerned about the tariffs," he said. "Not that they aren't going to affect pricing in our industry, but that is so publicly known and publicly discussed because it's not just our industry."
What he meant was that it was not just promotional products industry that would face repercussions from the tariffs. Yes, products related to industry cornerstones like apparel production are included in the tariffs, but that's hardly the only aspect of them.
"The automobile industry, the apparel industry and, really, almost all industries [are affected]," he said. "So, I think customers are fairly aware of what's happening as it relates. I don't think there's a buyer of promotional products whose industry isn't being affected by the tariffs. So I think that they get it."
Basically, the tariffs have impacted everyone in some way, Bellantone said, and that keeps the playing field level—or at least keeps the promotional products industry from being badly affected while other companies continue with business as usual. But, beyond the price hikes, the bigger problem is the uncertainty. It's hard to do business or create a strategy when you don't know how to forecast the next few months or years.
"My concern is the geopolitical consequences of uncertainty," Bellantone told us. "Not a political statement! But every morning I wake up and I go, 'Oh boy, what did he tweet today?' And I wonder how that's going to affect the mood and climate in business, and does that mean somebody isn't going to do hiring today because they're not sure of what's going to be coming down the pike? I think our business and our members can survive in up markets. They can survive in down markets. I just think it's hard for any business to survive in uncertain markets. More than tariffs, because tariffs may be a certainty, it's the uncertainty that scares us."
Recent developments, though, have made that uncertainty even scarier. On May 10, President Trump announced via Twitter that the U.S. would raise the 10 percent tariffs on $200 billion in Chinese imports to 25 percent, following through on a threat made if the two sides couldn't reach a deal by March. Four days later, in another tweet, Trump dropped an unexpected bombshell: The U.S. would soon place 25 percent tariffs on the other $300 billion in Chinese imports.
That $500 billion total represents nearly all the goods the U.S. imports from China. And it includes almost every kind of promotional product.
How we got here
Here's a brief timeline of the ups and downs of the trade saga:
In August 2017, U.S. Trade Representative Robert Lighthizer initiated an investigation into whether any of China's laws or policies could be "unreasonable" or "discriminatory" to U.S. intellectual property rights and technological development. In March 2018, the report found that China was, in fact, pursuing unfair trade practices. In April 2018, the president hinted at possible tariffs on up to $60 billion in Chinese goods, later releasing a list of $50 billion worth of Chinese products that would be subject to 25 percent tariffs.
Weeks later, China threatened to retaliate with a list of 106 products that would be subject to 25 percent tariffs. Still in April, the U.S. weighed adding another $100 billion of Chinese imports to the list. On May 20, 2018, Treasury Secretary Steven Mnuchin announced that the administration put the tariffs on hold, but would impose tariffs on $50 billion of Chinese products after it unveiled its final list in June.
Once again in retaliation, China updated its list, mostly focusing on agriculture and food products, as well as the automotive industry. On June 15, 2018, both countries imposed the first phases of their tariffs. The following month, the U.S. kicked things up a notch by announcing $200 billion in tariffs on China, this time including items like computer parts and luggage. President Trump threatened to impose tariffs on all imports from China, totaling more than $500 billion in 2017.
This is where we have to start paraphrasing a little, for the sake of word count:
China retaliated that it would add more tariffs, both countries finalized second phases of tariffs and put them into effect, and the presidents met in December 2018 at the G20 meeting in Buenos Aires, Argentina. At this meeting, we saw a glimmer of hope for the first time. Trump came away saying that things were positive, but reports were contradictory, and nothing was written in stone. U.S. officials nonetheless said that if the two countries couldn't formally come to an agreement by March 2019, the 10 percent tariffs already in place would increase to 25 percent. The clock started ticking.
That takes us to now. In February, the president announced via Twitter that the tariff increase would be delayed. As the March 1 deadline came and went, the U.S. extended it further, holding off on the increase to 25 percent. Trade talks continued, but the feeling was still much of the same, and uncertainty remained the ongoing theme.
In April, Reuters reported that Chinese and U.S. officials said they made "new progress" in the latest round of trade talks in Washington. The discussions covered issues such as the contentious intellectual property rights battle, agriculture, fentanyl production (which China has since agreed to crack down on), the trade imbalance that President Trump made a key point of his campaign and subsequent presidential term, and implementing whatever deal the countries eventually reach.
The South China Morning Post quoted Lighthizer as saying that the two parties were in the "final weeks of having an agreement," but that he's not entirely sure what it would be. "There are still major, major issues that have to be resolved," he said during the talks. "And if those issues are not resolved in a way that's beneficial to the United States, we will not have an agreement."
Beijing's feelings were similar. Chinese officials didn't want to settle for an agreement that makes it look like it's caving to the U.S., and its top priority was lifting the first round of tariffs on $50 billion in imports.
What stood out the most, though, is that while Lighthizer said that a result, be it positive or negative, was coming, he wasn't sure when. "We are either going to have a good result or we are going to have a bad result before too long," he added. "But I'm not setting up a specific time frame—it is not up to me. The president will tell me when time is up, or the Chinese will."
Then the talks fell through.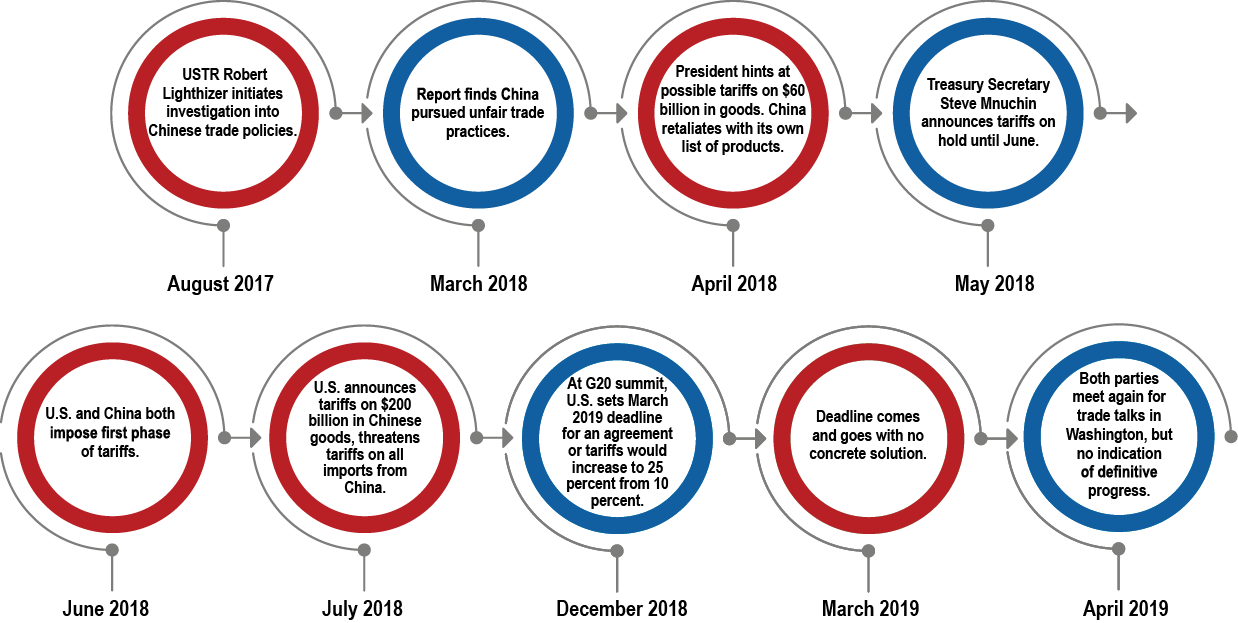 Feeling on the ground
As geopolitical stalemates go, this is a heavyweight bout. It's been raging for more than a year, built on decades of simmering tensions, and it has the potential for far-reaching impacts on global business. For companies that source heavily from China, the cost of production is going to become a real problem. What Bellantone said about basically every industry being in this together is true, but that doesn't necessarily make it easier to deal with when your business takes a hit.
"Tariffs on our products (bags and cases) have always been 17.8 percent," said Richard Flashenberg, president of The Colemax Group, Glen Rock, N.J. "It's always been this rate, and companies calculate this into their cost. In October 2018, another 10 percent was added to this. I know a lot of companies tried to absorb as much as possible to avoid raising prices to our customers. Now, with an additional 15 percent added, we are looking at almost a 43 percent increase in cost. The challenge for us, being a small company, is how do we stay competitive? Granted, everyone is paying this, but we don't know if some of the larger companies, who can make a larger profit on their products, will absorb some or all. For small companies like The Colemax Group, who work on tight margins to accommodate even the smallest of orders, it's difficult to gauge how much of the burden we can bear ourselves while still remaining competitive."
For Kelly Bennett, president of KellyBDirect, a third-party fulfillment and supply chain management company that works with a number of promotional products distributors and Fortune 500 brands, the impact of the ongoing trade war hasn't been felt so much in the cost of doing business as much as the absence of business altogether. "January is typically a very high-bid month [for us], but it was down quite a bit this year," Bennet told us. "Actually, the whole first quarter has been kind of slow for projects."
The problem, according to Bennett, is that when companies are feeling pessimistic, or at least on the pessimistic end of neutral, they aren't going to go out and spend money on something if they don't absolutely have to. This means that the companies Bellantone mentioned that are in the thick of the tariff problems, like the automotive and computer industries, aren't spending as much of their budgets on promotional products as much as they might have in the past.
"It seems to me that right now these types of projects are kind of in the hold pattern until the March 30 meeting," Bennett added. "My sales remain strong for stuff that's previously scheduled, like conferences that all have a hard deadline—things that the clients need to continue on with or at least continue a presence in. That remains strong. Everything else has remained kind of in a holding pattern."
Others in the industry remain optimistic, if cautiously so.
"I truly feel that a trade agreement between America and China will be announced in the coming weeks," said Lori A. Bolton, vice president of sales and marketing for Clegg Promo, Gardena, Calif. "These are two powerful leaders who want the best for their respective countries, and each wants to feel that they got the 'best deal.' Clegg will not be adjusting pricing to reflect the increased tariffs until July 1, and by then, I am hopeful there will be a resolution in place. Right now, we are not looking to source our products in a different country. I want to see what agreement is reached before reacting. Clegg has great relationships with our partners in China, and during my recent trip in China the tariffs were at the top of every conversation. Our partners are worried that business will suffer even more with increased tariffs."
"We advised our customers that orders that were on the water for delivery would not be affected, but that any orders in the design and production stage would be," said Reggie Gonzalez, vice president of sales and marketing for Greater China USA, Bellevue, Wash. "We have not seen any change of opportunities nor any loss of business due to the tariffs. Greater China USA is being very proactive and positive about the situation, and while we understand the impact it will have to the eventual end-customer, we all share in the responsibility to minimize the effect that it can have on future projects. It is an industry-wide challenge, and I firmly believe we will come out of it stronger and better positioned than ever before."
It is an industry-wide challenge, and I firmly believe we will come out of it stronger and better positioned than ever before.

—Reggie Gonzalez, vice president of sales and marketing, Greater China USA
Market impacts
While the tariffs that directly affect promotional products have been relatively minimal up until now, the coming increases will likely change that. (Update 08/02: The U.S. has since announced 10 percent tariffs on the remaining $300 billion in Chinese imports, effective Sept. 1, bringing the total value of tariffed imports to $500 billion.) But, to compound the problem, the industries that are being hit hard are industries that a lot of promotional products distributors would call their top vertical markets for sales—the automotive industry, the food and beverage industry, the construction industry, etc.
Coca-Cola announced that it would raise prices to recoup losses from increased freight and metal costs. The manufacturer of Jack Daniels and other whiskey brands is increasing its prices, too. BMW, Tesla and Harley Davison also all saw financial shakeups within their manufacturing plans. The longer the trade situation draws on, the greater the possibility that companies won't want to spend as much money as they had previously on things like signage, promotional campaigns, apparel and more. They'll be less likely to take risks on, say, new products for their company store 
or large quantities of promotional items. They could continue pushing those plans aside until there's a resolution. Everyone is kind of in "wait and see" mode.
"April is traditionally a very heavy-bid month for us," Bennett said. "Right now, yes, I've seen the effects, [but] they haven't been devastating. I'm confident we'll be able to pull things together. The market will come back. But let's see after March 30."
But that March 30 date—the new deadline for a U.S.-China agreement—came and went, as did the extension, and the two countries now seem further apart than ever on a deal. (China vowed to "fight to the end," retaliating by raising tariffs on $60 billion in products it imports from the U.S.) In the meantime, while companies in industries feeling the crunch from the tariffs are spending less on promotions, promotional products companies might be considering shifting their sourcing policies. If you don't buy from or manufacture products in China, the thinking goes, you won't have to worry about tariffs. But with deeply rooted and complex supply chains, that's not exactly feasible, at least not on the scale necessary for such a quick change.
"We do have the ability to produce in other countries, where the tariffs aren't as onerous, but need to weigh the cost/benefit of switching proven supply channels into uncharted waters," said Flashenberg. "Prices will be higher outside of China, air freight is typically higher due to lower volume coming from those countries, and there's a new learning curve. In the promotional Industry, making custom products, there is zero margin for error."
"It's the cost," Bennett said. "It's the cost of manufacturing. Some of that stuff over in China is having higher tariffs, and there's a hesitation to source to domestic markets. So I kind of see people sitting on their hands a little bit right now."
The cost of domestic manufacturing can be prohibitive to some businesses, especially those who might be newer to the game and are still building up a steady customer base. "That's another consideration," Bennett added. "However, if you ship things domestically, you're not shipping them in from China, [negating] the cost of transportation."
Bennett's current strategy is basically to wait and see what happens with hopes that, as things stabilize (hopefully sooner rather than later) and her customers get back to their usual spending habits, she's not changing much. It's a safe strategy, at least safer than fluctuating wildly between two extremes. It's like if you're in a car on an icy road and you start to feel yourself drift a little. The worst thing you could do behind the wheel is overcorrect and force your momentum wildly the opposite way. For Bennett, the industry version of this is to slowly turn the wheel in the direction you're sliding, wait to regain that traction and gently steer back on path.
"Right now I haven't made any changes really at all," she said. "The existing promotions and Amazon fulfillment [business], we're pretty strong right now," she said. "We've just been slower with the bid activity. There has been a slowdown, but I'm not changing much."
Outlook
Even the experts can't predict the future right now. For those thinking this only relates to the U.S. and China, officials from the World Trade Organization warned that it goes far beyond this particular Trans-Pacific trade partnership. A growing trend of protectionism could threaten the status quo of international trade.
"I would say this is the worst crisis not for the WTO but for the whole multilateral trading system since the [General Agreement on Tariffs and Trade] in 1947," Roberto Azevado, director general of the WTO, told the BBC during the G20 summit in Buenos Aires. "This is the moment when some very basic principles of the organization, principles of cooperation, principles of non-discrimination are being challenged and put into question. And I think that is very serious."
With the U.S. and China both being in the top echelon of international superpowers, it's less likely that one side decides to blink and concede enough to settle things right away. A stalemate could drag on and, like we are currently seeing with Brexit, it could inch closer to either a whole lot of nothing (delays, uncertainty), or a hard deal with no real upside for anyone.
"We understand that any deal without a clear path for lifting the initial $50 billion under the Section 301 tariffs was unlikely to be acceptable to the Chinese side," Jake Parker, vice president of China operations for the U.S.-China Business Council, told the South China Morning Post. "From the business community's perspective, the U.S. government should avoid any enforcement or monitoring mechanism that risks another unpredictable escalation of tariffs."
And, despite the previous optimism that China would play ball and give in to a handful of U.S. demands, Lighthizer said that likely wouldn't be enough. While answering a question from Oregon Sen. Ron Wyden about whether the U.S. would consider lifting sanctions if China followed through with what appear to be positive steps to fix the problems Trump laid out, Lighthizer was noncommittal. He wouldn't comment in public about the current status of the talks, but said that they were addressing the intellectual property and technology problems Trump had zeroed in on. He then tempered the optimism, offering this non-answer: "That is not to say that we've come to conclusion, because we haven't," he said, according to the SCMP. "But we're making headway."
That was before the latest flare-up and collapse of talks in early May. And U.S. officials have at various points said the two countries have been making headway, despite little visible progress. Yes, international politics and trade negotiations are difficult, delicate things. But we can zero in on tangible results and the feelings from around the industry. What our industry sources said is true. There have been impacts. We prepared for those. They haven't been strong enough to wreak havoc on the promotional industry to the point of causing a panic, but each escalation without a resolution pushes things closer.
It's not yet time to yank the wheel too hard to the side (or any other metaphor about overreacting). Treasury Secretary Steven Mnuchin was optimistic that talks would resume in late May, and President Trump is expected to meet with Chinese President Xi Jinping at the G20 summit in June. If a deal is reached by then, all this worrying will be for naught. But promotional products distributors and suppliers should certainly remain wary.
"The next major inflection point will be whether the U.S. follows through on threats to levy tariffs on the remaining $325 billion in Chinese imports," Joshua White, general counsel and senior vice president of strategic partnerships for BAMKO, Los Angeles, wrote in a whitepaper published on LinkedIn. "The impact would be significant, as consumer goods would be heavily hit and shockwaves would reverberate throughout the world of retail. Should that happen (and it very well might), China could respond by dumping U.S. Treasury bonds. Such a response is unlikely, as the impact would be highly self-destructive. However, if this trade war has shown us anything, it is that both sides appear willing to inflict self-harm in search of a broader victory."
If there is a takeaway from all of this, it's this: Trade wars are not necessarily good. We have seen some good from this, sure. But it has not been an objectively good experience for most businesses and industries. One thing is absolutely for sure, though. Trade wars are not easy to win. Especially when two of the most stubborn, powerful and financially robust countries the world has ever seen are facing off against each other.