The Future of Corporate Gifting Is Here
(What Does It Mean for Promo?)
'Gifting-as-a-service' or 'one-to-one gifting' companies are attracting big investments from venture capital firms as they bring tech-startup sensibilities to corporate gifting. But what exactly do these companies do—and why should the promo industry be paying attention?
In late May, a startup called Snappy landed $70 million in Series C funding from GGV Capital and three other venture capital firms, bringing its investment total to $100 million. In April, another startup, Alyce, secured $30 million in Series B financing from six venture capital firms, bringing its total to $48 million. Also in April, SnackMagic, founded in 2020, picked up $15 million in Series A funding from a pair of venture capital firms.
Aside from the significant funding totals, these startups have one thing in common: All three perform variations on personalized corporate gifting. Snappy and Alyce are software platforms that allow companies to give gifts that recipients can choose themselves. SnackMagic is currently a personalized snack box service geared toward corporate employees and conference attendees, but in June it launched a branded merchandise version called SwagMagic.
Collectively, these startups are known as "one-to-one gifting" or "gifting-as-a-service" companies. And they're making waves even outside the venture capital sphere. Snappy landed at No. 1 on the Inc. 5000's New York City Metro regional list for 2021 with two-year revenue growth of 2,420%. Alyce grew by 300% over the last year and placed No. 35 on LinkedIn's 2020 Top 50 Startups list. Snappy and Alyce, in particular, boast impressive client rosters. All three companies recently showed up in a Wall Street Journal profile, which billed them as "the reinventors of corporate gifting" and opened as follows:
Startups are offering corporate clients a personalized alternative to homogenous corporate swag, hoping that if recipients choose their own gifts, they will like them more. The nascent 'gifting-as-a-service' sector is gathering pace as companies are unable to dish out merchandise at in-person events, and consumers turn away from the cycle of amassing, then ditching, freebies they don't need.
That business model sounds squarely aimed at disrupting the traditional promotional products industry. But is it? The answer is complicated—and it might hold some surprising lessons for industry companies.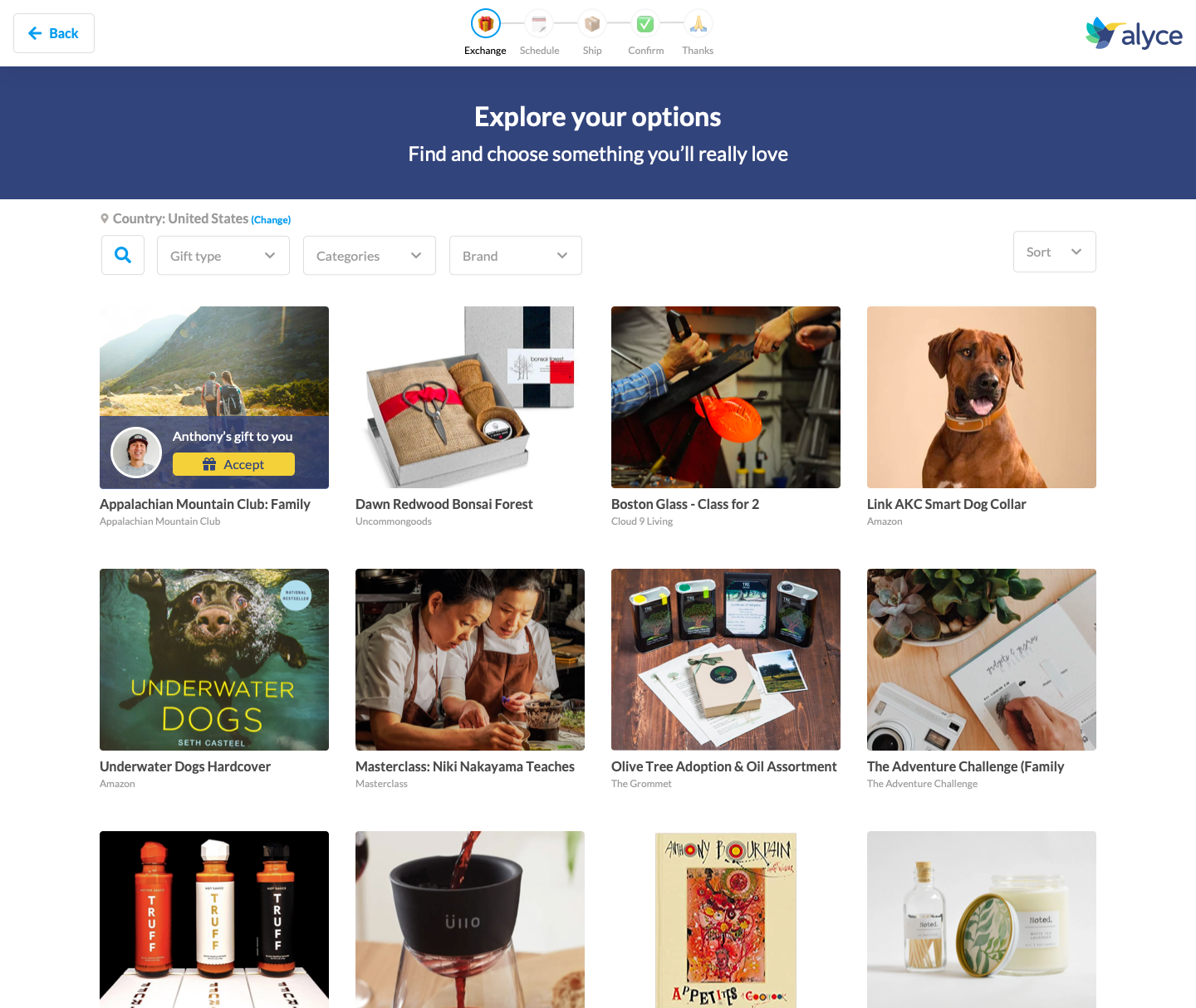 How It Works
Alyce got its start in 2015 after Greg Segall, an entrepreneur, remembered a bad gifting experience he'd had a few years before. At his first company, Segall worked with various partners, many of whom would send gifts each year. One partner sent him an expensive jacket, size XL, filled with chocolates. It was thoughtful, but it wasn't right for Segall, a self-described "health nut" who wears a size small. It wouldn't have mattered if the size was right—by the time Segall received the jacket, the chocolates had melted inside.
That was the foundation for Alyce, where Segall now serves as CEO. The company officially launched in 2016, and has since grown to 170 full-time employees. In the last year alone, it added 70 new employees and doubled the size of its executive team. PrivCo, a database that tracks private company financials, lists Alyce's post-money valuation at $50 million to $100 million.
The company's model, and the gifting-as-a-service model in general, is fairly simple in concept. Let's say a B2B salesperson wants to send a gift to a prospect. Rather than sending a physical gift, the salesperson selects an item from Alyce's virtual marketplace and sends a code redeemable for that item. The prospect can choose that item or swap it for another. (Gifters can also select multiple options for a recipient to choose from.) Once the prospect makes their selection, the gift is shipped directly to the address they provide—or, if they don't want anything, they can donate the monetary value of the gift to charity. The process is the same for corporate clients looking to give employee or customer gifts.
Alyce's real value proposition, though, lies beyond that general concept. As an enterprise software-as-a-service (SaaS) platform ("gifting-as-a-service" is a play on the SaaS designation), Alyce offers various tools to its customers. It can be integrated with sales and marketing platforms like Salesforce, Marketo and Outreach, automating various processes and streamlining workflow for users. Alyce's marketplace contains tens of thousands of products from retail brands and features deep filtering options, with the ability to sort by gift type, dollar level, interest ("boating," for example) and more.
And then there's the data. Alyce bills itself as a "Personal Experience" (PX) platform—not just because it provides one-to-one gifting, but because of how it provides it. The company collects detailed information on gift recipients, making it available to gift-givers so they can track conversions and better inform future gifting. It uses artificial intelligence to research prospects, gathering information from publicly available sources like social media and generating personalized product recommendations based on the results—if a prospect tweets about "Mare of Easttown," Alyce might recommend a Roku streaming device.
"It's a key differentiation that we have made, as our product has started to evolve, to start to thinking about surfacing data that allows people to just build connections and build relationships that much more effectively," MK Getler, head of marketing for Alyce, told me over Zoom. "… When we do have a person go through the gifting process, and to send a gift, the first thing that gets surfaced is someone's publicly available social profiles. Our AI will be able to surface certain data points in those social profiles to say 'this person is a pet lover, this person is a sports enthusiast, this person is an avid reader.' And, because of that, our gifting platform will recommend gifts to complement those interests."
The other gifting companies operate similarly, with minor distinctions. All three prioritize personalization. Snappy, like Alyce, leans heavily into data, offering substantial tracking, automation and reporting features in its user dashboard. Its product marketplace is impressive, with partners including Apple, Amazon, Netflix and other powerhouse retail brands. SwagMagic allows users to build curated swag boxes, offering recipients the option to redeem the boxes as-is or customize the gift assortment to their liking.
All three companies offer branded merchandise, to varying extents (more on that later). And all three facilitate gifting for customers by eliminating touches and streamlining the fulfillment process. SwagMagic customers can order branded merchandise directly through the platform or ship already-created branded items for storage as they await deployment. Alyce and Snappy remove inventory from the equation altogether, with gifts shipping directly from their brand partners. This saves customers time, as they don't need to individually select multiple gifts or handle the distribution of items ordered in bulk.
"Most customers don't want to have to go through the process of working with a creative team to design the entire gifting experience, then work with a fulfillment center to be able to get all of these physical goods created and made," Getler said. "Then usually you send it to a warehouse and have all of them stored, and then the warehouse helps with your inventory management and fulfillment. We eliminate that entire process. You can reduce your workforce by two or three people because you don't necessarily need to have someone dedicated to this full time. Instead, with Alyce, we allow you to gift at scale and gift where you are."
"Product is no longer the only thing being considered, as variety, selection and ease of ordering are increasingly important."

—Nathaniel Bettinger, director of sales, Blue Sky Marketing Group
Where It's Heading
These gifting-as-a-service startups are clearly attractive to investors. And, as is typical of tech startups, the model is gaining steam. Sendoso, Giftagram, Givenly, Loop & Tie—these are just a few of the companies that pop up with a quick Google search. All promise variations on the tech-powered corporate-gifting approach. This makes sense, given the size of the market. Snappy estimates that U.S. companies spend $125 billion a year on gifts for employees and customers.
This is a considerably larger market than the $20-ish-billion-a-year promotional products market, though there's definitely overlap. The question for traditional promo businesses, then, is how much attention should they be paying to these upstart companies? Based on an informal poll of suppliers and distributors, industry awareness of the gifting-as-a-service model is all over the map. Some had never heard of the model, while others knew the basics. Some regarded it with skepticism, others with curiosity. Most had questions.
One that kept coming up: How do these companies fit into the trade shows and events space—perhaps the most crucial market for promo distributors? The Wall Street Journal noted that the pandemic year "proved to be lucrative" for gifting-as-a-service companies, whose ability to ship directly to recipients' home addresses became even more attractive in the absence of in-person events. (This is similar to what happened in the promo industry with the rise in drop-shipping.) But what happens when live events come back?
A few gifting-as-a-service companies have indicated that they want to expand into the trade-show-swag business. Alyce and Snappy offer physical scratch cards exhibitors can distribute to event attendees to redeem later on their virtual platforms. They're betting that they can appeal to attendees tired of lugging bags of booth swag around the show floor, and to exhibitors eager to skip the logistics hassle and upfront costs involved in trade show swag. "It's cheaper for the company, because they don't have to pay for gifts that aren't redeemed or that are thrown away," Hani Goldstein, co-founder and CEO of Snappy, told the Wall Street Journal.
As Goldstein alluded to in that quote, these companies are also betting that the promise of reducing waste—by keeping unwanted giveaways out of hotel-room and convention-center trash cans—will be attractive to exhibitors and attendees alike. That sustainability story shows up in the marketing materials and mission statements of many gifting-as-a-service companies, and is key to their strategy for making in-roads in the event space.
It's worth noting, as several promo industry sources did, that shipping hundreds or thousands of products directly to recipients' homes is less environmentally friendly, from a carbon emissions standpoint, than sending one shipment of products to a convention center for localized distribution. But Alyce and others believe their model reduces enough physical waste and cuts out enough supply chain touches to more than offset any added emissions.
"Sending unwanted and unexpected gifts as a business model is not a sustainability-focused business," Robert Collins, communications director for Alyce, said. "… An industrial bulk order of unpersonalized swag that is then carted back and forth from shows, events and office gatherings is a less sustainability-minded approach than providing the customer or recipient their own unique power of choice, to help ensure it's a gift they'd want and use that doesn't end up in a landfill."
We'll see whether the model catches on in the live events space as in-person trade shows start to return. When they do, companies like Alyce might have some obstacles to overcome. As several industry distributors pointed out, some of the excitement of receiving a gift might wear off by the time a recipient actually redeems their code. If the recipient selects an unbranded item—say, a set of JBL earbuds—will they remember the exhibitor or brand who gifted them without continued logo exposure?
"Trade shows are designed to help companies find new buyers," said Lisa Greyhill, MAS, president of Firebrand Global Marketing. "How will a company decide who of them qualifies based on the brief exposure that is typical of visiting a trade show booth? An enthusiastic conversation might justify a shipped gift, but maybe not. If trade show attendees know 'the game' to get selected, people who covet nice (shipped) gifts may pretend excitement about your product or service just to receive that gift (swag scammers will absolutely return as shows reopen, but the dollar value will be higher to the company that ends up shipping gifts to the scammers)."
Why It Matters
Back to the big question: What does this all mean for the promo industry? The Wall Street Journal article, headlined "'Gifting-as-a-Service' Companies Want to Rid the World of Unused Corporate Swag," positions these companies as direct competitors. It's easy to see why, especially as they make a play for events business. As noted, Alyce, Snappy and SwagMagic also deal in branded merchandise, which raises some obvious red flags from a competition standpoint. These are valid reasons for concern, or at least caution. But fears that these companies represent an existential threat to the industry are almost certainly overblown.
For one thing, the overall promotional products market is huge. There's a lot of business to go around. Gifting-as-a-service companies might win some of that business, but it's not as if the model will replace the existing promo industry model altogether. If anything, these companies are simply another source of competition, able to do some things traditional promo companies cannot, but less capable in other areas. The best promo companies have proven track records of success and decades of promotional marketing expertise. Their value to customers extends far beyond gifting.
"I know I should probably be worried that they'll eat up a chunk of space in our industry, but I don't really see the two things as related—at least not yet," said Greyhill. "Our branding, kitting and messaging are very client-specific, and branding is a big part of that. Unbranded gifts ... don't necessarily tell a story or carry the message line from meeting to gift. So I guess I'm saying that their approach to 'rid the world of wasted swag' is kind of off message They're comparing apples to oranges."
The other thing: Some of these companies are actually part of the traditional promo industry already, or see the potential for collaboration within it. SwagMagic's branded merchandise capabilities are powered by an industry distributor using a well-known promotional products software platform. Alyce and Snappy are not formally affiliated with the industry, but they don't specialize in branded merchandise. While Alyce can produce it for customers through its Swag Select platform, it also allows customers to connect their current promo vendors directly to the platform or use branded merchandise that's already been created. Alyce, for its part, doesn't view itself as a competitor.
"We saw ourselves squarely in the software space trying to help solve more of a problem around scale and quality of gifting, rather than the actual gifting problem itself," Getler said early in our conversation. "We see ourselves fitting very nicely in complement to the promotional industry," she added later. "In fact, you'll start to see as our product evolves that we'll start to be more inclusive of the promotional industry as time goes on."
Rather than analyzing the threat level, a better exercise might be asking "what can we learn?" Gifting-as-a-service startups are attracting big venture capital investments and getting Wall Street Journal profiles for a reason. Despite significant progress in the industry and plenty of statistics that say otherwise, the idea that promotional products are "wasteful" persists. (Patagonia's recent decision to no longer offer corporate branded options over environmental concerns is a recent example.) The gifting-as-a-service model is marketed as a solution. It hits on personalization, sustainability, convenience, quality—all things today's customers and consumers have come to expect.
The best promo businesses have already figured this out. They're using variable data and on-demand printing to create personalized merchandise. They're adopting sustainable business practices and focusing more on quality products. They're reducing friction for their clients by handling logistics, fulfillment and warehousing. They're adding premium brands to their product offerings. They're developing solutions for a post-pandemic market in which companies will need to engage remote employees through better, more targeted corporate gifting.
Others, though, have been slower to catch up. Those companies may want to consider the "why" behind the early success of the gifting-as-a-service model and evaluate where they stand in relation. This is the direction the industry is heading. Are they prepared to stay competitive and meet the changing needs of their customers?
"Product is no longer the only thing being considered, as variety, selection and ease of ordering are increasingly important," said Nathaniel Bettinger, director of sales for Blue Sky Marketing Group, a distributor based in Northbrook, Ill. "One-to-one gifting is here to stay, and distributors need to offer a solution in order to stay relevant and successful."