Rise of the Supplier One Stop Shop
As the promo industry continues to consolidate, the one-stop-shop supplier model appears to be the future. What does it mean for distributors—and for everyone else?
by Hannah Abrams
September 2019
When Jason Lucash and Mike Szymczak started Fountain Valley, California-based Origaudio in 2009, they had big dreams of rapidly growing their promotional audio/tech supplier company. "And we did it," said Lucash. "We grew the business from nothing to $30 million in promo sales in seven years. But in order to take it from $30 million to $100 million, we wanted strategic distribution."
In other words, Origaudio came to a crossroads that many promotional businesses now find themselves in: partner with a big fish or continue to grow with the resources available. For Origaudio, the choice was an easy one. The company needed to leverage the potential of east coast production and operations in order to expedite its shipping processes to east coast clients, and its California facility couldn't meet those demands.
So, to scale Origaudio to meet client needs, the company partnered with HUB Promotional Group, Braintree, Mass., in Sept. 2018. With nine strategic distribution points across North America, the merger suited Origaudio's need for speed and delivery. And HUB Promotional Group was now able to 
add top-rated audio and tech products to its existing product category offerings.
On the distributor side, companies working together to reap the benefits of discounted shipping, artwork preparation and other perks is nothing new. Distributor buying groups have existed for quite some time, and they continue to be an appealing option for smaller distributors looking for ways to grow their business and improve their supply-chain partnerships.
But on the supplier side, the concept of the one-stop shop—with all or most product categories available from the same supplier—is a bit of a newer one. Polyconcept North America (PCNA) was one of the first suppliers to pull it off. In April 2011, the company announced that it acquired Toronto's Trimark Sportswear Group, an apparel supplier. While PCNA already had Leed's, Bullet and JournalBooks under its umbrella, this was the supplier's first serious foray into soft goods.
Other suppliers would soon adopt this model, acquiring or partnering with suppliers that could help fill in the blanks in their product offering. In Dec. 2017, alphabroder, Trevose, Pa., added Prime Line, Bridgeport, Conn. Chocolate Inn/Taylor & Grant, Hicksville, N.Y., acquired Lanco, Ronkonkoma, N.Y. HUB Promotional Group added Origaudio to a collection of suppliers that already included Hub Pen Company, Beacon Promotions, Canyon Leather and Debco, among others. More recently, BIC Graphic, Clearwater, Fla., partnered with Hanesbrands Inc., Winston-Salem, N.C., and Cap America Inc., Fredericktown, Mo., in 2019, to bolster its apparel business.
It's clear that this is the way the industry is trending. And it makes sense. For suppliers that acquire or partner with other companies to form these one-stop shops, the benefits are obvious. Mid-size suppliers get access to a slew of resources and support, while larger suppliers are able to add additional product categories and customer bases without having to build them from scratch. For distributors, the one-stop shop model has obvious advantages, which we'll cover in this story. But it also comes with some questions.
We spoke to a variety of suppliers and distributors to give a comprehensive view of the current one-stop shop supplier landscape, and what it means for the promo industry moving forward. Here, our sources share their experiences and their predictions for the future.
The One-Stop Power Players
Consolidations, mergers and acquisitions have been making industry headlines for several years now (see timeline below), in no small part due to HUB Promotional Group, BIC Graphic, PCNA and Hit Promotional Products. In order to understand what led to the moves, the process of integration and its advantages, we spoke to sources at each company.
For Hit Promotional Products, the decision to move toward the one-stop shop model came about as a response to current end-user demands. "I think it's in line with how consumer behavior has sort of evolved, and retail and wholesale and really everything," explained Josh Appelbaum, vice president of apparel for Hit Promotional Products. "The expectation now, as a consumer, is that you get something from one website, one store, one something, without having to think very much about it. And our industry has always kind of lagged behind on ideas like that, but this is kind of an easy one. So we feel like we have to be in that space, or someone else will be in that space and we'll miss out on capturing that new consumer opportunity."
Hit acquired Admints & Zagabor in 2015, adding Admints' food products selection to its offering. Soon after, Hit realized that apparel was a logical next-step for the company, given its long-time status as one of the largest hard-goods suppliers in the industry. "We were approached about taking in orders [on apparel] four years ago, and we just kinda fell into the apparel industry," said Appelbaum. "And then we've sort of put structure in place and made it a viable entity, but we really just fell into it. So that's how a lot of people get into it. It seems very strange to say, but it's sort of how it is. It was either get into it, or not get into it, but not getting into it was not really an option."
Hit began building out its own apparel program, rather than acquiring or partnering with another apparel supplier. But it only reinforces the idea that the one-stop shop is the future. Applebaum said that adding apparel is a natural extension of Hit's business. But he also believes suppliers are obligated to keep evolving, if they have the systems in place to do so. "I think it's really relevant to note that we have a responsibility to be as 
cutting-edge and upfront and mobile to our customers to help blend that experience," he said. "When I first started in this industry, the promo market lagged 24 to 36 months behind retail in everything, and now that we have the same capabilities as e-commerce/retail setups, we ought to keep up. And I think it is our responsibility to do so. I think it's important to get the word out that this is not your grandpa's screen-print shop anymore."
Like Hit Promotional Products, BIC Graphic was another large hard-goods supplier looking to break into apparel. BIC, too, was looking to improve its customer experience, and adding apparel with a simplified pricing structure was a logical way to deliver what distributors were asking for. To meet that demand, BIC partnered with HanesBrands Inc. to offer decorated apparel from Champion, Gear for Sports, ComfortWash, Alternative and Hanes, and it soon realized there were other opportunities.
"Working with a third party, Hanover Research, we surveyed end-users to help identify growth opportunities for new product development," said Carrie Lewis, communication manager for BIC Graphic North America. "One area where we discovered potential was the outdoor category, so we have added 52 new outdoor and leisure products so far this year—most notably, umbrellas through a partnership with Peerless Umbrella and headwear through a new partnership with Cap America."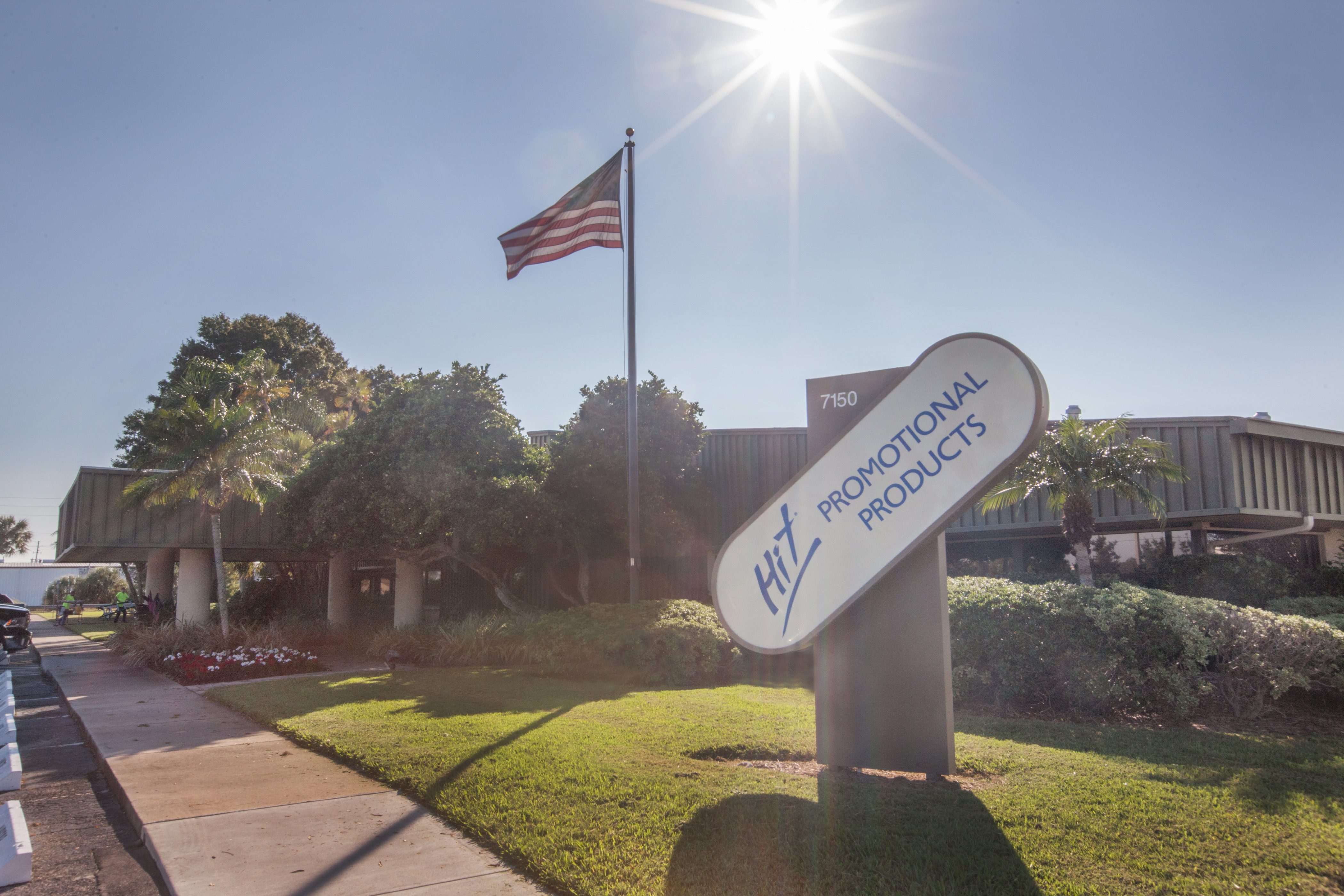 So far, the one-stop shop model has already proven advantageous for BIC Graphic's distributor clients. "The main benefit is giving distributors the opportunity to consolidate vendor spend, if they choose to do so," said Lewis. "Also, a larger selection of products allows for more idea generation when developing campaigns, using resources like the 'you may also like' tool on bicgraphic.com."
As a result of BIC Graphic's first-hand success with the one-stop shop model, Lewis believes we can expect to see more of these business consolidations moving forward. "The promotional products industry is a large but fragmented industry," she said. "The development of more partnerships and mergers makes both suppliers and distributors stronger, while creating additional opportunities for everyone. Additionally, recent 
investments in the promo industry from buying groups and private equity capital are a great sign for future growth that will strengthen the industry as a whole."
David Nicholson, president of PCNA, agreed that we can expect to see more partnerships like these in the promo industry's future. "We have already seen evidence of this over the past five years, as more and more suppliers have moved to expand into new categories," he said. "Given competitive 
pressures, it is increasingly difficult for smaller, single-category suppliers to remain viable when you consider the investments required to support technology, compliance, sales and marketing, labor, etc. For distributors, many have already taken on initiatives to reduce the number of preferred suppliers—with the goal of reducing cost, gaining buying power and improving efficiency."
Still, all this consolidation is not without its pain points. Lucash, Origaudio's president, said that while improved speed and delivery advantages are passed down to the distributor, the process of integrating multiple businesses into one can take time and patience. HUB Promotional Group, for example, now consists of nine different suppliers, all of which previously operated independently. Getting them operating together, into one system with a common goal, is "crazy," Lucash said, but he believes the perks of the one-stop shop setup far outweigh the hangups. And he sees the industry moving further in this direction in coming years.
"You will start to see more and more one-stop-shop suppliers forming in order to provide ease of service to distributors," he said. "And on the distributor side, you'll see more consolidation to try and focus the overall spend. You'll see more of these partnerships in the future on the supplier side, as distributors try to funnel their spend across only a handful of preferred suppliers with whom they can negotiate better payment terms, rebates, white glove service, etc."

Mid-Size Suppliers Weigh In
If the one-stop shop model is the future of promo, though, then where does that leave the suppliers that haven't moved in that direction? These suppliers, many of them mid-size or smaller, know they need to find other ways to stand out and continue providing value for distributor clients. We spoke to several of these suppliers to find out how they're accomplishing those things.
Sterling Wilson, president of Pop! Promos, Philadelphia, told us that the supplier's PMS-matched products with full customization capabilities and delivery in 30 days or less is what sets it apart. "Although smaller distributors might want to consolidate all of their business with one or two suppliers, our target customers are more sophisticated distributors who work with top-flight clients and who know that delivering value in the form of unique products exactly matched to their client's brand DNA sets them apart from their order-taker competitors," he said. "Overall, mid-sized suppliers who deliver unique value and who are sophisticated enough to ensure strict safety and compliance (Pop! Promos works with McDonalds- and Walmart-approved factories) will continue to thrive as suppliers consolidate into one-stop shops."
Webb Company, Eagan, Minn., has similarly played to its strengths, focusing on the product lines it's best at and shifting manufacturing to in-house. Dan Webb, the supplier's president, said these moves have effectively made Webb Company a one-stop shop without having to partner with one of the big names. "Our strategic foresight lies in mastering product categories one at a time, with heavy focus dedicated to being on the leading edge of product development and service," he said. "By manufacturing so much in-house, the customization is truly endless, and we can be that much more creative with our customers. We understand that customers want options, and moving to a one-stop shop means that no matter the distributor and no matter the end-user, we can find the perfect home-run for any promotion."
Clearly, Webb Company understands the benefits of the one-stop shop setup, and has moved to position itself this way from a product assortment and customer service standpoint. But Webb believes that remaining independent brings with it considerable benefits that outweigh those that come with consolidation. "Our belief on why our strategy is more advantageous boils down to our passion, work ethic and understanding of the industry is matched by very few," he said.
"The ad specialty industry has been in our family for three generations dating back to the '60s and, furthermore, keeping the company private without outside investors or acquisitions means we answer to no one, and can pivot in any direction at our own discretion and speed," he continued. "Whether it be a new product line, investing in new manufacturing equipment or updating our go-to market approach, we can create any level of change instantaneously, without the politics and hurdles that more corporate structured companies have to go through."
While in-house manufacturing has helped Webb Company stay competitive, Galaxy Balloons, Cleveland, has maintained its edge by focusing on unique products and customer service. (It also made a move to expand its product offering in 2018 by acquiring Great American Drinkware Company.) Jason Broadbent, national accounts manager for Galaxy Balloons, said that the supplier is able to provide depth of choices and inventory within its product categories, multiple printing processes, and extensive product safety testing and experience to ensure all children's products are safe.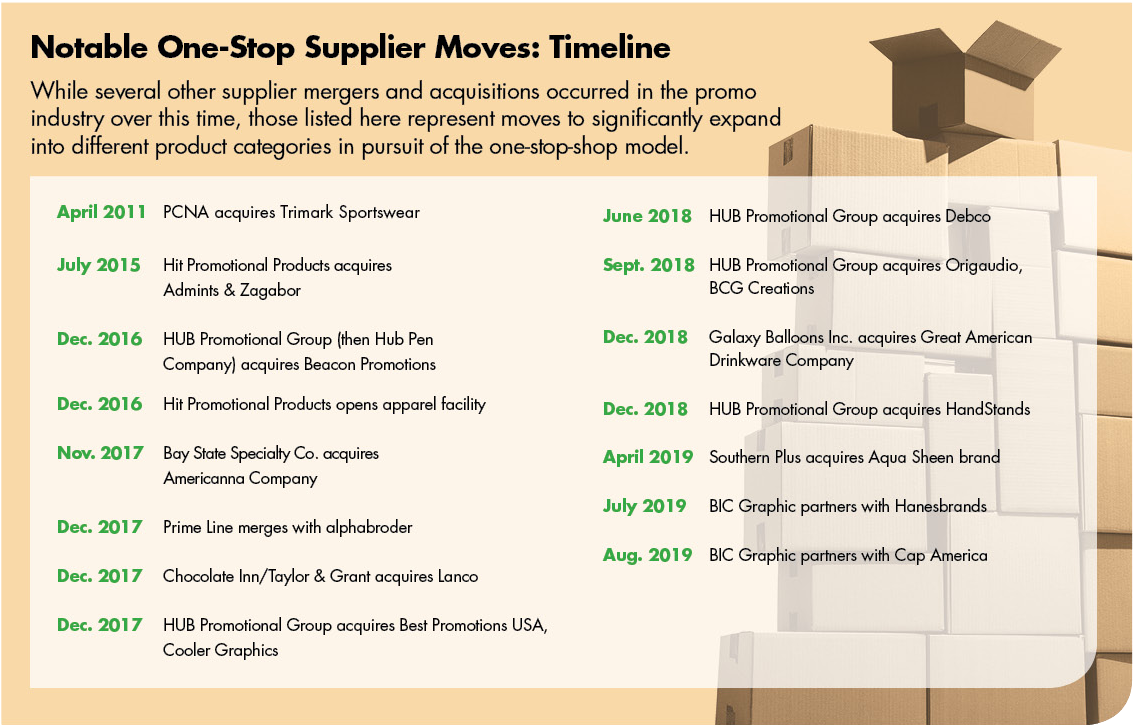 Howard Cubberly, global general manager for Goldstar, San Diego, agreed that in order for mid-size suppliers to position themselves as competitors to the big guys, they have to elevate themselves through product design and relationship-building. "Service is a key differentiator for Goldstar—we will look to add new products, categories or decoration methods if we can eliminate set-ups/extra fees or leverage capacity for standard quick-shop production times, etc.," Cubberly said.
"We offer value beyond products," he continued. "We certainly offer expertise in writing instruments and full-color decoration with a wide selection of styles and price points, but I think our customers keep coming back because we built a culture around helping them grow their businesses. … I think the future of the industry is bright as long as we remain open to change and continue to innovate."
BamBams, on the other hand, has managed to merge the best of both worlds. The company has formed partnerships with select suppliers, like T-shirt Tycoon, to diversify its product offering and benefit distributors without skimping on customer service. That's why Ben Taylor, chief marketing officer for BamBams, says supplier partnerships and networks are "awesome." "I think if we come together as supplier partners, that it gives us the best access to our distributors, and gives our distributors the best access to us through whomever they have the best relationship with," he said. "We are working diligently on our partnerships, and hope to see them expand and continue to be fruitful. … As a mid-sized supplier, [those 
partnerships] allow us to play with the big boys. We're granted more access to products that we don't manufacture or source."
But if BamBams is willing to partner with other suppliers, why not just join up with one of the major supplier consolidations? To put it simply, BamBams believes its current arrangement allows the company to remain a distributor's "true partner in every sense of the word." "When distributors work with a company like ours, we are able to provide them with a higher level of creativity and learn their business to best partner with them on the solutions they're seeking," said Taylor. "When you work with the giants, it's very transactional."
While some mid-size suppliers might not believe the one-stop shop model is right for them, it's still important to note that they respect and understand the process of suppliers working together to meet distributor and end-user demands. And, on the other side, when it comes to distributor buying groups, most believe partnerships can be a good thing if carried out correctly.
"Distributors are also facing real competition from bigger players, and I completely understand why they are looking to align," said Cubberly. "We are not the first B2B industry facing this squeeze. I do think it is critical that the buying groups remain open to new and innovative suppliers, otherwise they will all be caught in a price war selling the same products from the same handful of one-stop-shop suppliers."

Distributor Perspective
We've heard from suppliers on both sides of the one-stop model about what it means for their distributor clients. But in order to get the full picture, we wanted to hear from the distributors themselves. We reached out to some medium- and large-scale distributors to find out how working with 
one-stop-shop suppliers compares to working with smaller or more niche independent supplier companies.
Summit Group, a Silver Spring, Maryland-based distributor that ranked No. 25 on our 2019 Top Distributors List with $64.5 million in 2018 promotional products sales, has experienced positives—so far—from the one-stop-shop movement. But Michael Harper, Summit Group's CEO, noted that there are some question marks, mainly in considering the larger implications for the promo industry. "Certainly from an operational standpoint, for a distributor of our size, it's positive in that it enables us to partner more deeply with fewer suppliers," he said. "So, in the short term, I would say, it's largely positive. I think in the long term, there is the danger of consolidation and a shift of power. If you have too few suppliers controlling the source of all of the merchandise, it becomes too difficult to offer variety, and easier for [the suppliers] to dictate terms if they were so inclined."
Still, Harper emphasized that the industry needs to be open to change. "For this, along with all changes, I think it's too easy to look within our own little small world and industry, and view everything as a threat, and view all the negatives, and what could go wrong, and what does this mean, and is this going to hurt me here or there?" he said. "I think we have to look at, as an industry, where we're providing value in the chain. And if you're really 
worried about the 'balance of power' between distributors and suppliers, then frankly, I don't think you're forward-thinking enough to get to a point where you're really able to demonstrate value to your clients as you move forth through the chain."
When we asked Harper what independent mid-size or smaller suppliers can do to continue demonstrating value to distributor clients, he said it's of utmost importance that they identify needs in the industry and service those needs. In other words, find a niche, but keep evolving.
Much like Summit Group, HALO Branded Solutions, No. 2 on our Top Distributors List with $605 million in 2018 promo sales (and itself no stranger to acquisitions) had favorable views of the one-stop-shop supplier landscape. "It's a positive trend for HALO, and for the industry," said Terry McGuire, senior vice president of supplier relations and merchandising for HALO Branded Solutions. "As large-volume order-processors, any endeavor that reduces that amount of touches we have to provide on customer orders provides meaningful expense-reduction and, therefore, greater profit per order."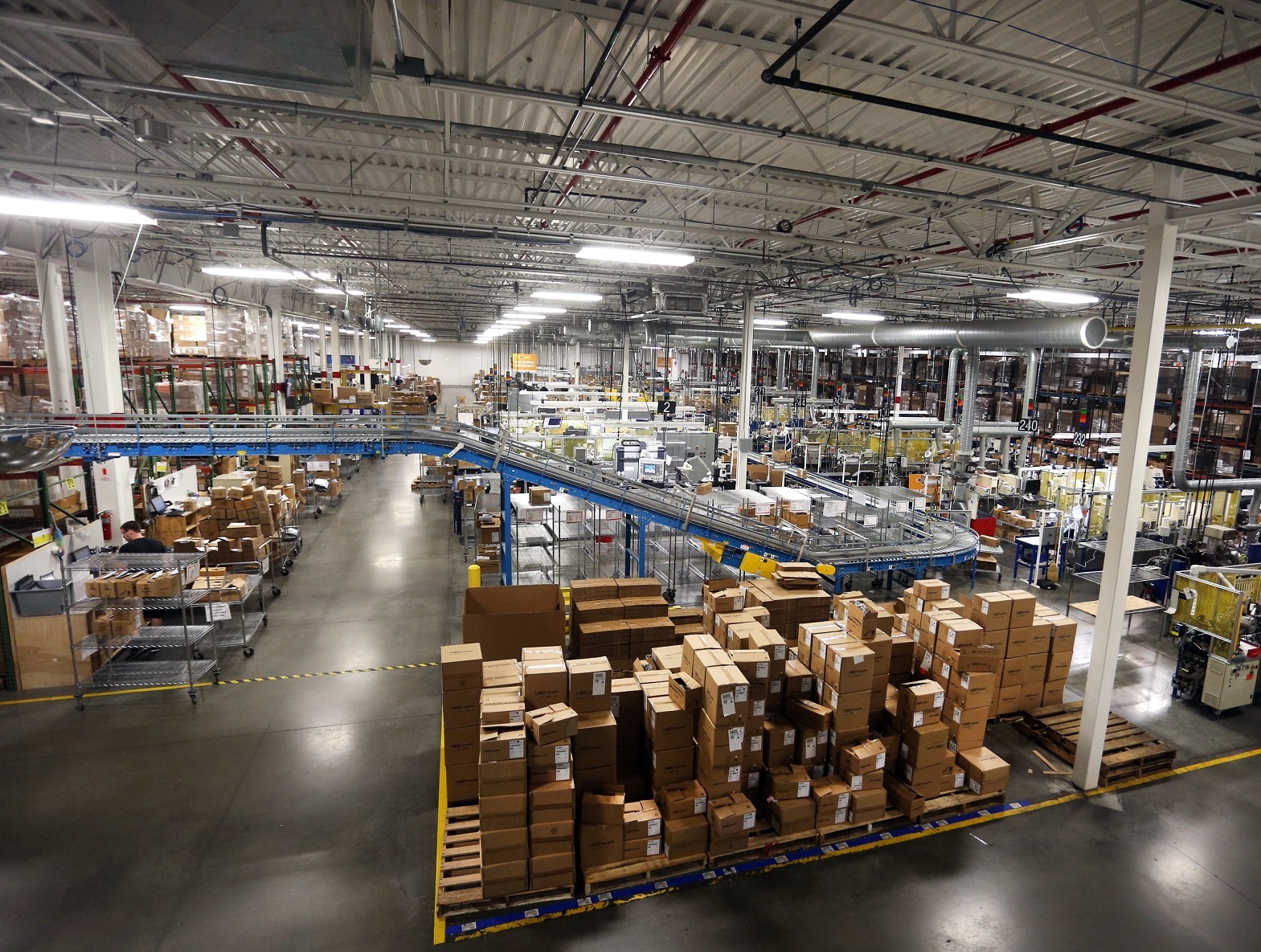 For HALO, deciding between the one-stop shops and the smaller vendors comes down to some simple comparisons. "We compare pricing of both the item and the decoration, compared to current multi-vendor models," said McGuire. "Then, we consider variety, since some single-source suppliers are limited in the brands they will decorate."
Still, other distributors were more skeptical of the one-stop model. McKenzi Stover, senior account manager at Paperclip Promotions, a smaller shop than either Summit Group or HALO, was one of them. "I'm not a huge fan of [one-stop shops]," she said. "I understand from their perspective why it would be beneficial, but for us, it's starting to feel like there is nothing unique from any one supplier anymore. A lot of the time, it feels like everyone is showing us the same thing, so sometimes, I see a product from a supplier that they're really excited about because it's new for them, but we may have already seen it months ago."
Stover said that Paperclip Promotions has started to look for suppliers who are more unique and who "cater to one item that they really rock, because it's something different and that's what we pride ourselves on." She also mentioned that there are positives to working with the one-stop shops, like their greater ability to really learn about distributors' clients and suggest ideas distributors may not have thought of. As such, Stover said she 
relies on both models for different jobs, typically based on the client.
"There is really a multitude of things we look for," she said. "One is reliability—how quickly [the supplier] can get things to us, how well the items are produced, and how easy they are to work with, especially if there is a mistake in the order. There are a few one-stop-shop suppliers who do a really good job, and we feel that we have a really good relationship with them and can depend on them. But we also like to look for products that are unique, and these bigger suppliers don't tend to carry anything different from the rest."
If anything, Stover's views show that the promo industry has room for both large one-stop-shop suppliers and independent small or mid-size suppliers to coexist—for now, anyway. And while we'll likely see the one-stop trend continue as the big guys look for ways to get bigger and smaller suppliers consider forming partnerships of their own, the increased competition means all suppliers will need to step up and keep evolving. That's almost certainly a good thing for distributors and, more importantly, their end-buyer clients.
"One-stop shops are working to fill a long-needed gap in the service offering by reducing the additional work for distributors of all sizes and creating a more practical and efficient buying experience," said McGuire. "The key to success in the future is enhancing the buying experience, whether you are a supplier, decorator or distributor."