'If Anything, We're Worse Off'
What's Going On With America's PPE Supply Chain? (and How the Market Has Changed in Promo)
After shortages early in the coronavirus pandemic, America's PPE supply seems to have caught up. But why do so many hospitals and frontline health workers say they still don't have enough? In this story, we look at the disconnect between supply and demand, plus revisit PPE in the promotional products industry to see how the market has changed and where it might go.
by Sean Norris
August 2020
"I'm not sure I'm an expert, but thank you." I've asked Dr. Lisa Lattanza how she went from chair of orthopedics and rehabilitation at Yale School of Medicine and chief of orthopedics at Yale New Haven Hospital to unofficial head of the hospital's alternative personal protective equipment sourcing efforts practically overnight, and she's politely rejected the idea that she's any sort of PPE expert. But her credentials say otherwise.
Since March, at the start of the SARS-CoV-2 pandemic, Dr. Lattanza has been in charge of a massive PPE supply chain effort for Yale New Haven and its Yale Medicine physician network. She volunteered for the job after her hospital, like most across the U.S., shut down elective surgeries as a safety precaution in the early stages of the pandemic, leaving her with time on her hands and a sense of duty to help her colleagues working on the front lines. At the time, Yale New Haven's supply chain department had done its best to prepare for the coming coronavirus surge, but the hospital was burning through PPE at an unsustainable rate. "We were going through things at such a rapid pace given the number of patients and the precautions that needed to be taken—it was all hands on deck," says Dr. Lattanza. "So we started looking at lots of different alternatives."
While Yale New Haven's existing supply chain department continued working its regular PPE channels and vendors, Dr. Lattanza assembled an upstart sourcing effort aimed at vetting irregular channels to supplement the hospital's PPE supply. She worked with Connecticut's secretary of manufacturing to help local businesses transition to PPE manufacturing and production, providing guidance on required specs and testing PPE prototypes for hospital use. She linked up with the New Haven Maker's Association—"people who get together and make stuff," she explains—to assist in and standardize the design of homemade PPE, vetting their products and helping disperse them to the hospital and the community.
Most of her time, though, was spent trying to find an alternative to the usual N95 1860 mask manufactured by 3M—the standard in PPE for frontline health workers that was suddenly in perilously short supply—and sorting through the mess of one-off masks suddenly available from vendors who'd just gotten into the PPE business. In partnership with Yale's school of engineering, Dr. Lattanza set up a testing facility, like a small-scale version of the one run by the National Institute of Occupational Safety and Health (NIOSH), to determine which of the overwhelming number of masks were safe for hospital use without having to wait weeks for a national testing facility to return each sample. Within 10 days, the lab was up and running, testing filtration capabilities, breathability and fit, and weeding out counterfeit masks. The lab would go on to test around 60 different masks, identifying a few safe and approved N95 replacements.
"It was crazy because all of this stuff was being sent to me from Hong Kong, China, Vietnam, Turkey—getting sent to my apartment," Dr. Lattanza tells me. "And I'm labeling this stuff and getting it over to these people to test, cataloging and logging the donations, cataloging and logging the stuff that we're buying samples of until we find something that we could use in place of the N95."
Today, Yale New Haven Hospital, which at its peak admitted 500 COVID patients at one time, has more or less returned to business as usual, the worst of the Northeast's early coronavirus outbreak behind it. Dr. Lattanza has since resumed her day job running Yale's orthopedics department. She still spends her extra time tracking down N95s and isolation gowns in preparation for a second wave, but she's no longer working 12 to 14 hours a day sourcing and testing PPE, like she was in April, May and June. You'd think she'd be relieved. Instead, with coronavirus cases surging across large swaths of the U.S. and at least 900 health workers among the more than 165,000 Americans who have died from the virus, she's concerned about preparedness levels and the overall state of hospital PPE supply.
"If anything, we're worse off, because there's still no supply chain," she says. "3M is making masks in this country, but not making enough, and we can't get 3M masks at our hospital, still. It is such a convoluted story that I can tell you what I think is happening, but I don't know exactly what's happening. We've placed orders probably with a half-dozen different people who tell us they can get us in line to get 3M masks. It's been six weeks and none of them have come through. Most of them come back to us with their tail between their legs and say, 'We can't get 'em, FEMA keeps pulling the masks off the line and bumping other orders.' Maybe that's happening, I don't know. All I can tell you is that I've been trying to get the standard 3M medical masks—medical N95s that we use, that I've used for my entire 25-year career—and I can't get a single one in the door."
'ADEQUATE SUPPLY'
Dr. Lattanza's concerns highlight America's disjointed response to the pandemic and the convoluted PPE supply chain that has sprung up as a result. After initial surges in coronavirus infections overwhelmed hospitals and put PPE in the national spotlight, it appeared that supply caught up to demand as manufacturers mobilized production and the Federal Emergency Management Agency rebuilt the national stockpile. The shortages that marked the early months of the pandemic seemed, mercifully, to be a thing of the past. On July 8, Rear Adm. John Polowczyk, who oversees FEMA's Supply Chain Stabilization Task Force, told The Washington Post he had "not found a hospital system that is in threat of running out" of PPE, and said mainstream news coverage made it seem like "the world is ending and they're running out of stuff." Suppliers and distributors I talked to for this story—as well as others outside the promo industry—said that, for the most part, supply is readily available on their end. But the reality is more complicated.
In mid-July, the Akron Beacon Journal asked four health officials (three at Ohio hospital systems and one at the Summit County department of health) the same nine questions about PPE supply and sourcing. All four officials said they were confident in their supply chains, but their responses varied widely on almost every other question. Some said they had sufficient PPE, while others said they're seeing shortages of some items. Some said they weren't rationing, while others said they were still reusing PPE. Two weeks after Rear Adm. Polowczyk told The Washington Post that concerns over shortages were overblown, Pete Gaynor, the administrator of FEMA, told lawmakers that new coronavirus hot spots could lead to shortages. "We are not out of the woods completely with PPE," he said.
Hospitals and health officials all over the U.S. are reporting similar concerns. Carmela Coyle, president and CEO of the California Hospital Association, told ABC7 that insufficient COVID-19 testing and long results lag times force health workers to burn through PPE at a higher rate, as they must assume all patients have the virus. She expects PPE supply issues to last two more years. "The global supply of PPE cannot meet the current demand," she said. Dr. Bernie Klein, chief executive for Providence Holy Cross Medical Center in Los Angeles, told ABC7 that the hospital uses 200 to 400 N95 masks a day, and that PPE supply interruptions happen "weekly." National Nurses United, the largest nurses union in the U.S., sounded the alarm about shortages in early July. Many hospitals are rationing N95 masks in accordance with CDC guidelines for reuse. Other hospitals have found ways to resterilize masks for repeat wear. These are measures designed to stretch PPE supplies—and still hospitals and health workers are reporting shortages.
"The tough thing is nobody really knows what the definition of an 'adequate supply' is," says Dr. Lattanza. "I can tell you what we were using per day back in April when we were headed toward our peak numbers in the hospital—we were using 15,000 isolation gowns a day. Our supply chain people figured out how to resterilize N95s, and people were given one to use for an entire day or longer, which is not the usual. I think these are some of the things that the public doesn't understand. An N95 mask is supposed to be a single-use mask, so we're saying we have shortages when we're not even following normal, non-pandemic guidelines for how to wear a mask, which is you wear it once, for one patient, and you throw it away. People in hospitals were running out of masks when they were giving a doctor or nurse one mask and saying 'put it in a brown paper bag and wear it tomorrow, too.' Or 'wear it for two or three days.' I can't even fathom how many masks and gowns we would need if we were using them how they're supposed to be used."
Somewhere, there is a disconnect between supply and demand. There are vendors willing and able to find and deliver the products, and there are buyers with overwhelming need for PPE. But some of these buyers still can't get enough. There's no single explanation for the discrepancies. Part of it, as Dr. Lattanza said, is likely that "adequate supply" is a moving target, dependent upon multiple constantly changing factors—number of COVID-19 patients in a given hospital, number of cases in a given region, rising or falling infection rate for an area, varying stockpile projections for a second wave, etc. "If you are a small- or medium-sized health care provider, the need for PPE is difficult to project and, therefore, purchase, because it is often based on local conditions related to positive test results," says Terry McGuire, senior vice president of vendor relations and communication for HALO Branded Solutions, Sterling, Ill.
It could also be that some types of PPE are relatively easy to find, while others, like N95 masks or approved equivalents, are still hard to come by. On August 14, the FDA published its first list of current medical device shortages during COVID-19, part of a new requirement under the CARES Act. Nine of the 20 entries were PPE items, including surgical gowns, examination gloves and "MSH surgical respirators." MSH is the FDA's product code for the N95. Under "reason for interruption," all of these items are listed as "demand increase for the device." McGuire, who has spent much of the last five months sourcing PPE for HALO, has seen this firsthand. N95s remain difficult to source, he said, unless customers purchase in large quantities and wait several weeks for delivery. Minimum order quantities for approved and tested masks have gone up from the thousands to the low millions, he said, putting buyers unable to purchase larger quantities in a tough spot. And the supply chain for N95 alternatives, like KN95 masks, remains convoluted and, at times, unreliable.
"You can't trust anything that comes from anywhere," says Dr. Lattanza. "That's why we set up our own testing facility. We've gotten things where we would order masks and the certificates they'd email us don't even match the numbers on the masks. So, you have no idea where to order from, how many to order—because you don't want to spend a lot of money on something that's going to be garbage when it gets here. If you order a few and then test them, and then place a bigger order, by then, someone else has gone in and ordered all that stuff and it's gone."
The other issue, as McGuire alluded to above, is economic. Dawn Conway, CEO of Shumsky, the promo distributor based in Dayton, Ohio, said product availability is good, and that none of the company's health care customers have reported PPE shortages. But she believes that shortages elsewhere in the U.S. could be related to cost issues. "The supply chain has caught up with the demand for PPE, so we are not experiencing any sourcing challenges for the product currently," Conway says. "However, most of our suppliers and vendors require an upfront payment, which can pose a challenge as, due to increased availability of PPE, clients are less inclined to either pay a deposit on order or accept shorter payment terms, which was not the case in the beginning of this crisis." Conway said this was primarily an issue for distributors sourcing PPE for health care clients, but it illustrates the way pricing and payment can make PPE more difficult for certain customers to acquire.
In the early part of the pandemic, with a patchwork supply chain, PPE pricing was wildly inconsistent. Vendors who'd never dealt in PPE jumped into the market, many with good intentions, but some looking for a quick cash grab. Price gouging ran rampant. In normal times, an N95 costs around $2. Dr. Lattanza said she saw vendors charging up to $8 per mask. "If I could find a mask for $5, it was a good day," she says. "Calculate the markup on that. There wasn't a single person out there who was selling a mask at a normal price." Now multiply that by the hundreds of masks hospitals use each day. Meanwhile, the CARES Act allocated funding for public health systems to purchase PPE, but that funding is not unlimited, and in many cases it's been offset by substantial revenue losses at hospitals, like Yale New Haven, that went months with no elective surgeries and few non-COVID patients. Add to that the number of PPE orders that simply never materialized, and the minefield of counterfeit items on the market, and it's no wonder hospitals might be hesitant to plunk down large deposits or commit to shorter payment terms.
"Honestly, pricing was the big issue, and it's going to be an ongoing issue because it's impacted losses of hundreds of millions of dollars in most hospitals," says Dr. Lattanza. "We're not talking about small losses. … People selling crap that was counterfeit, trying to pass it off as the real deal, was another issue. If I had a dollar for every person who jumped into this market who told me they could get me something but couldn't—that I waited three, four, six weeks and product never came. People were trying to make hospitals deal in cash or escrow instead of a purchase order. Anybody who tells me they need cash up front, or they need 100 percent in escrow up front, which is essentially cash up front, I don't trust you. So I would probably have 10 calls a day, and maybe one of those would pan out where somebody actually had product and could get me product."
Pricing has since stabilized, though at higher levels than pre-pandemic. McGuire says pricing for disposable surgical masks has dropped by roughly 50 percent since April, mainly due to lower air freight costs and a move to ocean freight. Pricing for FDA-approved KN95 masks has dropped by about 30 percent, he says. Gown and face shield prices have also come down. Perhaps the lower prices will help hospitals replenish supplies more easily and reduce the number of reported shortages. But they might be offset by the sheer number of buyers now in need of PPE. Medical facilities that earlier in the pandemic stopped seeing patients or took patients on a limited basis are now reopening in greater capacity. They too need N95s, surgical masks, gloves, gowns and face shields.
We'll find out in the coming weeks and months if these facilities can get the PPE they need. But some of them are already reporting shortages. The city of Hialeah, Fla., for example, assembled a task force to evaluate conditions at nursing homes and assisted living facilities in the area. Of the 94 facilities it surveyed, 20 reported PPE supply shortages. "A lot of the smaller mom and pop ones don't have the means, or maybe don't know how to get them," said Willians Guerra, Hialeah's fire chief and a member of the task force. "There's a backlog not only with their orders but with the state getting their supply to them." The American Medical Association, meanwhile, has been documenting shortages at physicians' offices nationwide. These shortages are before we even factor in the non-medical facilities, such as schools, that also now require extensive PPE.
Just as there is no simple explanation for the disconnect in the PPE supply chain, there is no simple solution to it. But Dr. Lattanza believes there are measures that would help: Allowing public health officials to lead on public health policy. Ramping up PPE production in the U.S., perhaps with government subsidies, to streamline the supply chain and decrease reliance on overseas factories. More coordination at the federal level. "With a fully functioning federal government, there could have been a central distribution so when a certain area needed stuff it actually got distributed," she says. "I don't know where the stuff is going that FEMA is supposedly taking off the line. And maybe it's not even FEMA—that's just what we're being told. That's the thing. The stuff I've told you about my own experience is true, but the rest of it is just conjecture. I don't know if FEMA is really taking 3M masks off the line, or if 3M isn't producing them yet. I really don't know. I just know we can't get them."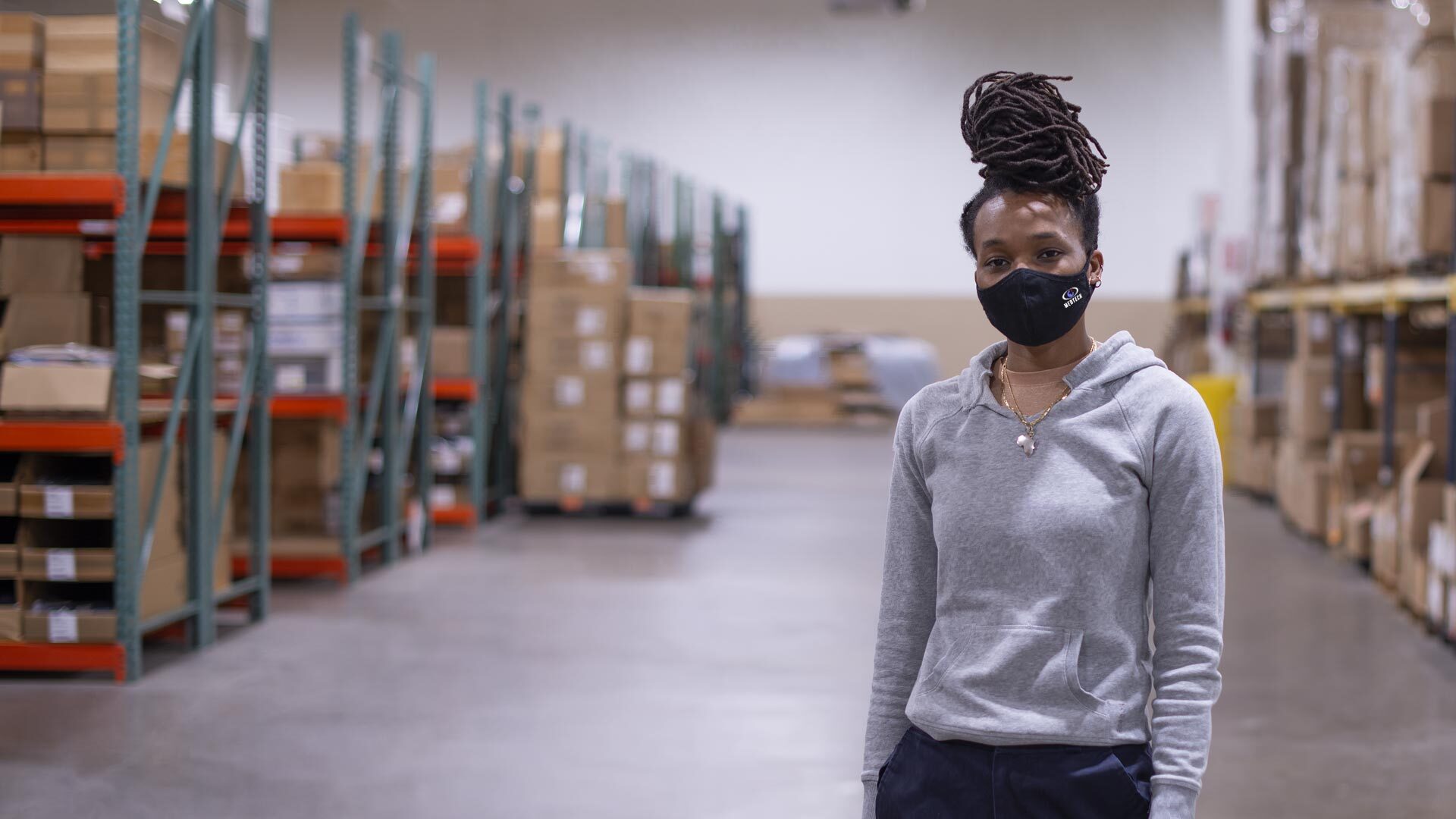 THE PROMO MARKET
On the promo side, the PPE market has changed significantly since we last visited it in April and May. In the early months, changing import and export rules, massive and urgent demand from hospitals, and a free-for-all of unproven vendors entering the market made sourcing PPE especially difficult. With much of the demand on the medical side, safety and regulatory concerns further complicated sourcing efforts. Widespread supply shortages meant higher costs.
Things have calmed since then. Regulations are clearer. Domestic inventory has caught up, with most traditional promo suppliers now offering PPE in various categories. Health care customers are still buying, but product demand and purchase volumes have shifted to branded and unbranded PPE for businesses looking to reopen. Mask-wearing requirements and recommendations have expanded dramatically, increasing demand on the consumer side. "Everybody and anybody that is running a business in retail outlets, stores, schools, restaurants, etc. needs these items," says Steve Paradiso, president and CEO of ePromos Promotional Products, the distributor based in St. Cloud, Minn. These are all good signs for the promo industry. But there are still challenges.
Increased production capacity and product availability means lower prices and greater margins, but pricing is still volatile. "If you order today, there is a higher chance the cost could be much lower for the same product/quantity two weeks from now," says McGuire. Danielle Augustine, vice president of sales for eRetailing, a technology company whose FAST platform typically caters to promo distributors selling decorated apparel, but has now mostly transitioned to supplying PPE, says this has made some customers more cautious about buying in large quantities. "Some companies were burned early on, and it sounds like there may be some hesitation for their next set of orders," she says. "… If it takes six to eight weeks to receive their orders, they are hesitant since pricing could drastically be reduced by the time their order is filled."
Where possible, eRetailing has focused on products with strong domestic inventory to ensure it can ship quickly and with the most current pricing, Augustine says. But lead times remain long for items manufactured overseas, and these orders are often fulfilled first-come, first-serve. Inventory moves fast when it arrives in the U.S. End-buyers used to the short turnarounds available for most traditional promotional products may balk at long wait times. "PPE is another animal," says Augustine. "Decisions need to be made quickly, especially when stock shows up stateside. I think distributors likely struggle getting their buyers to move quickly and change to this PPE mindset, which unfortunately is the reality of this new buying process."
This is all complicated by increasing minimum order quantities, which have reached full container loads for certain in-demand products. As noted earlier in this story, minimums for N95 masks are in the millions. Augustine has seen minimums for surgical gloves at 10,000 cases, which comes out to 10 million gloves. On the health care side, there's little risk of over-buying—hospitals, as we've seen, are using PPE as fast as they can replenish it. But non-medical businesses buying PPE may be hesitant to buy in large quantities as states and municipalities loosen or tighten PPE requirements in response to changing coronavirus infection rates in their region.
"We have to continue to demonstrate our value as a trusted partner that our clients can rely on to source high-quality and compliant products in the timeframe they need it."

—Dawn Conway, CEO, Shumsky
Counterfeiting also remains a major issue. McGuire says the market is flooded with non-standard and non-tested products, and that some manufacturers make suspect claims. Augustine has seen the same. "Early on, we were very cautious with the supply chain because of the fraudulent activity that happened overseas," she says. "Sadly, it still continues to happen, so we are still extremely careful. The overused word 'fluid' is all too true. The market is extremely volatile, and there are many layers involved for PPE orders versus our traditional supply chain with domestic apparel suppliers. We have had a trusted supply chain for nearly 20 years, but we have been and still are very cautious given the prevalence of fraudulent PPE activities in the market."
Still, despite these challenges, PPE has carried the promo industry. While overall 2020 distributor sales are down, companies that shifted hard to sourcing and selling PPE have more than made up for lost revenue from other product categories. Many, including HALO, are thriving. BAMKO, the distributor based in Los Angeles, sold $49.7 million in PPE in the second quarter alone, bringing its total sales for the quarter to $75.5 million—a 217.8 percent year-over-year increase. Conway said PPE accounted for 66 percent of Shumsky's total sales from March through July. Other distributors have had similar success. "PPE became a necessity in the first half of the year, and we were fortunate enough to secure domestic inventory while investing in a significant amount of product oversees," says Paradiso. "It was because of this pivot to PPE that we saw greater sales during that time, which offset the decrease in trade show and event-specific business."
And the market has shown little sign of slowing down. According to data from "COVID-19 Promotional Products Industry Recovery Research Vol. 1 No. 2," the second installment of an ongoing study from NAPCO Research and Promo Marketing, 84.8 percent of the 220 industry companies surveyed reported sales of health care products either increasing (67.5 percent) or staying the same (17.3 percent) from June to July. That's up slightly from the 83.2 percent of companies that reported PPE sales increasing (69.8 percent) or staying the same (13.4 percent) from April to May. Superior Uniform Group, the parent company of BAMKO, said in a letter to shareholders that it anticipates record 2020 sales, bolstered by BAMKO's strong second quarter and an additional $52 million in PPE sales already booked for quarters three and four.
In May, when we last looked at the PPE market, the consumer marketplace for branded masks was just kicking into higher gear. "While companies that need PPE for essential workers or as part of their reopening plans are loading up on bulk purchases, other businesses are buying up masks as merchandise," we wrote. "Early on, we saw this mostly with smaller businesses—bands, restaurants, breweries, etc. But the market has since blown up to include the biggest brands out there." It's only exploded further since then. As the U.S. economy attempts to drag itself to life despite surging coronavirus infections, businesses and consumers need masks more now than they did a few months ago. Thirty-four states, plus the District of Columbia, have required face coverings in public. Some major cities, like Phoenix, have their own mask requirements, even within states that haven't issued mandates.
It's anyone's guess as to how long the demand for PPE remains this high. The market is likely closely tied to America's ability to combat the virus—the better we do, the fewer masks and face shields we'll ultimately need, and for a shorter period of time. Paradiso expects PPE sales to stay strong through at least the end of the year. McGuire expects dramatic swings in demand for as long as the pandemic carries on. Competition should only increase, with the market growing more saturated by the day as new products and sellers enter from inside and outside the promo industry. But, for now, PPE is here to stay.
"I still think there is opportunity, since PPE is not going away anytime soon," says Conway. "But it is more competitive now. We have to continue to demonstrate our value as a trusted partner that our clients can rely on to source high-quality and compliant products in the timeframe they need it. It is difficult to predict beyond 90 days in this environment, so the key is to stay close to your customers, listen to what they need and be able to adjust quickly to that need, leveraging your core strengths. It is not business as usual, but there is opportunity—it just looks different."