Price Increases
Are Here
— Now What?
Product prices are up across the board for 2022—in some cases greatly so (and in others, still rising). How can distributors protect their margins while keeping customers from leaving for the lowest bidder?
Everything is more expensive, that much we know by now. According to the Bureau of Labor Statistics, the U.S. consumer price index rose 7% last year, the largest spike in 40 years. We're feeling every bit of that at the gas pump, at the grocery store and in our energy bills. But to truly understand the impact of inflation on our day-to-day lives, we must turn to fry-conomics.
In 2019, a small French fry at McDonald's cost somewhere around $1.39, depending on region. Today, with McDonald's in the midst of potato supply issues, that price stands at $2.19 in Los Angeles and $2.29 in Cedar Rapids, Iowa. In Houston, it's still a reasonable $1.59, but just outside Philadelphia, it's $2.69. Yes, in the Philly suburbs, anyway, McDonald's French fries are now 94% more expensive than they were before the pandemic. Even that Houston price is up 14% over the pre-pandemic price.
It's no wonder U.S. consumers are feeling (sorry) salty. And the McDonald's example helpfully illustrates the on-the-ground reality obscured by the math: The consumer price index might be up 7%, but many products fall on the higher side of that average. And, unlike McDonald's fries, most of these are items we can't simply stop buying.
That's the situation print and promo distributors now find themselves in. With the start of 2022, prices are up across the board, in some cases greatly so (as we'll see shortly). And while that won't stop customers from buying, it will require distributors to figure out the best way to keep those customers buying from them, all while protecting their margins and growing their business in a challenging market.
Here's what that might look like.
"Our strategy remains the same: helping our customers make the most impact with whatever budget they have."

— Emily Jaworski, business development manager, Whitestone Branding
Current Status
Some suppliers began increasing prices in 2021. Others held pricing relatively steady for much of the year, but warned that increases for 2022 would be unavoidable as higher costs at every stage of the supply chain decimated margins. A few suppliers, mostly larger ones, have not yet implemented 2022 price increases, though they've left the door open to adjustments if necessary. In some cases, prices are still going up.
For the most part, we knew this was coming. It was inevitable as the supply chain situation deteriorated over the course of 2021 and inflation ticked upward at an historic pace. Many suppliers, like S&S Activewear and Delta Apparel, informed distributor customers of coming price increases directly via email communications. In April 2021, SanMar distributed an infographic explaining cost increases in the apparel supply chain. In November, it confirmed in a letter to customers that it would raise prices on just over half of its 3,000 styles for 2022.
"Our priority this year has been to do everything possible to have stock available and to ship product to you as quickly as we can," Jeremy Lott, president and CEO of SanMar, said in the letter. "We have increased compensation to attract more employees, switched to air freight whenever possible and paid astronomical shipping costs to ensure space for our containers on ocean vessels. Meanwhile the prices of raw material, labor and transportation have all increased and currency devaluation is creating inflationary pressure on all of us. Given all this, the overall cost of making our product and getting it to you has gone up significantly this year."
SanMar's increases are roughly in line with the overall 7% rise in the U.S. consumer price index. The supplier increased prices by an average of just over 6% on 500 of its styles and by 2% or less on most of its other styles, with several best-sellers and other lines, like Carhartt, remaining unchanged. S&S said its 2022 increases start at 5%. Koozie Group, a large supplier that primarily sells hard goods, said its average 2022 price increases fall in the 3% to 10% range. Pricing changes for many suppliers and products appear to be in this range. But some product categories have seen significantly larger increases.
On the print side, paper products have increased in price by 7% to 15% and packaging materials by 10% to 20%, according to Staples. In promo, pricing data from 25 randomly selected suppliers appearing in Promo Marketing's product search engine shows increases consistently at or near 15% for tech items, 15% for drinkware, 20% for backpacks and bags, 20% for displays and signage, 20% for coolers, and 30% for outdoor products.
Increases varied by specific SKU and supplier, and not all products within these categories were subject to such exaggerated spikes, but some individual products came in even higher. The price of one camping chair, for example, increased by 58.73% over 2021, while the price of one vacuum tumbler rose by 33.23%. Prices for several vinyl banners rose by upwards of 70%.
For distributors, these price increases are significant. At the start of last year, 36 of those camping chairs (the minimum quantity), would have cost $899.28. Now, that same quantity costs $1,427.40. This is an extreme example, but even 5% increases add up over large quantities and a long enough period of time. And that's the reality now facing distributors: These price increases are here to stay, at least for as long as anyone can meaningfully project.
"Some economists will argue that the current 7% inflation rate is temporary and will start to level off once supply chain disruptions begin to even out," Erin Cannata, sales and marketing communications director for S&S Activewear, told the Apparelist, Promo Marketing's sister brand. "Even if the rate of change decreases, it doesn't necessarily mean the level of prices will. If or when prices start to stabilize, it will take time for those changes to be reflected throughout the supply chain."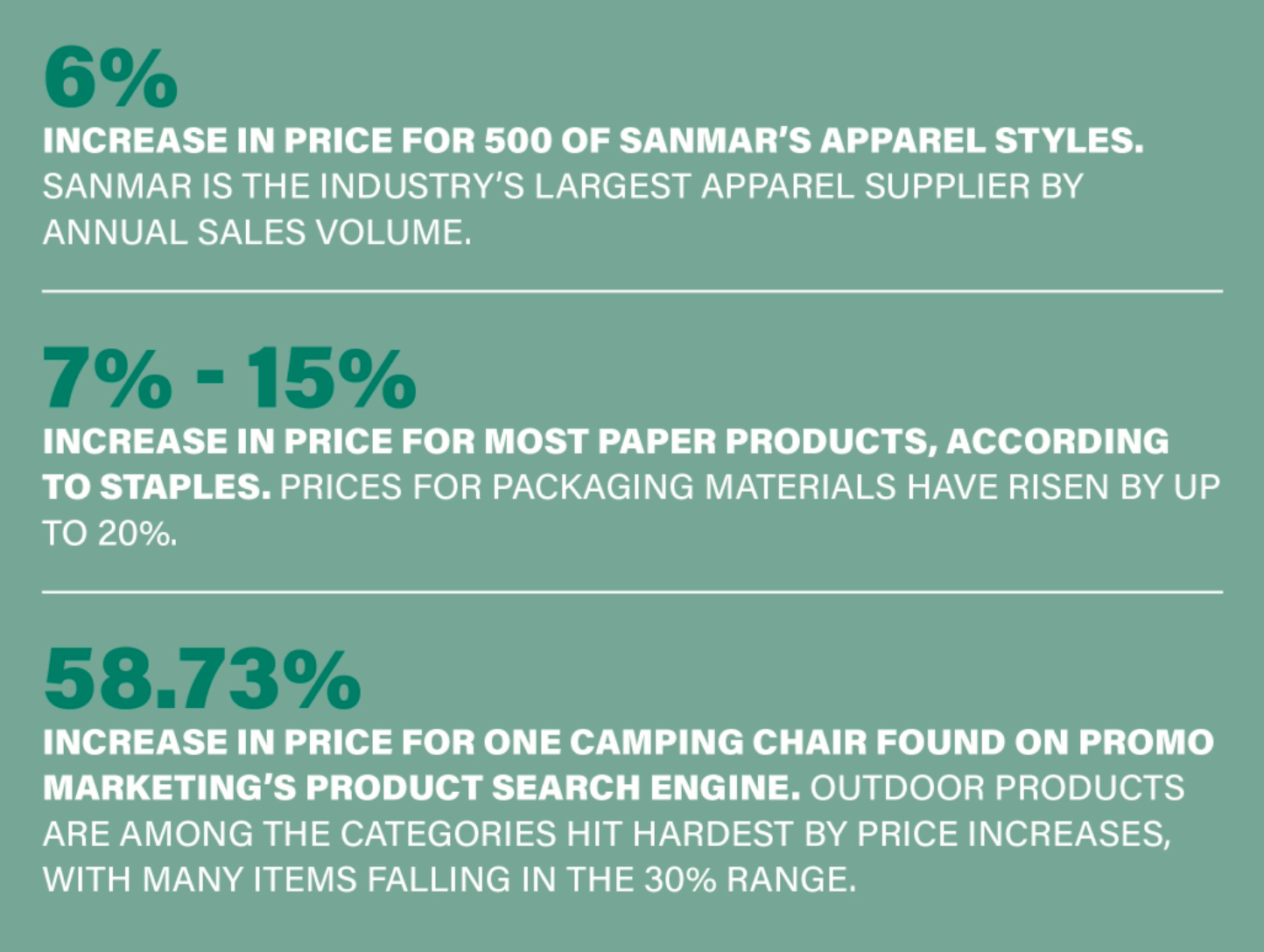 'Alternative Solutions'
The question, then, as always, is what can distributors do? The obvious solution is to pass price increases along to the customer. And if that customer has been to a McDonald's any time in the last 12 months, that conversation should go much more smoothly. (Such is the transformative power of fry-conomics.)
"Most consumers are experiencing price increases," says Ryan Olson, a San Diego-based business development manager for American Solutions for Business, the distributor based in Glenwood, Minnesota. "Groceries, cars, clothing, etc. are all more expensive. This makes it easy to let a client know that our industry is no different. Things cost more all around, so I haven't had much negative feedback from clients."
The key, of course, is to make it a conversation. The only thing people like less than price increases are surprise price increases, so it's crucial to educate customers on the reasons behind the changes and explain in detail why they'll be paying more. Ideally, distributors should have started this process in early or mid 2021, when the supply chain fallout was first becoming clear. But if distributors held out, perhaps absorbing early price increases in hopes that things would stabilize for 2022, it's not too late to start.
"We've continued to keep this conversation on the forefront," says Emily Jaworski, business development manager for Whitestone Branding, a distributor based in New York City. "Although at times it felt draining to have the same conversation over and over again, we knew our clients appreciated it, because they told us they understood why these price increases were happening. It was never a surprise to them when they saw their final sales order in their inbox."
Like many distributors, Whitestone has taken a proactive approach, communicating the industry's pricing situation to clients before they even place their orders. The company has done this through marketing efforts, notes in staff email signatures and a monthly newsletter it calls "The Swag Lab." The December 2021 edition of that newsletter included a section titled "Getting Ahead of Delays" and an infographic showing the change in shipping rates since the start of the pandemic.
To avoid further surprises, Whitestone has even adjusted its order process. Before, the distributor would simply process reorders. Now, it won't confirm product pricing or availability for a customer until it has verified these with the supplier. This has essentially added a day to the order process, but it has allowed Whitestone to provide more accurate pricing information to customers and communicate changes ahead of time.
Moves like these have helped many distributors soften the blow for customers. But the conversation doesn't always go well. Both Olson and Jaworski say they've lost a few orders over price. And Jaworski described one instance where a client—a museum gift shop whose business is mostly reorder stock for its shelves—was not exactly receptive to higher prices. This was "tricky to manage," Jaworski says, but ultimately Whitestone was able to solve the problem and keep the client on board.
"If pricing was too high, we worked through alternative solutions," Jaworski says of Whitestone's strategy for navigating these kinds of scenarios. "Our main objective is to learn why the client is making this purchase. They don't necessarily need mugs—they need something to send a new hire. By learning our buyer's 'why,' we can help pivot their order to achieve their objective within their set budget."
This is what the print and promo industry's best distributors have been working toward for years or decades: a consultative approach that deemphasizes price—and, to an extent, product—and positions the distributor as a solutions-provider, a partner whose added value is worth paying for. It's not a new or revolutionary concept, but in a business environment where so much attention is now on price, it's taken on renewed importance.
Mark Jenkins, managing director for Pioneer Balloon, a supplier based in Wichita, Kansas, heavily advocates for this approach. He believes that price increases (and the state of the supply chain, in general) present an opportunity for distributors to truly showcase their value. If clients understand the current complexities involved in fulfilling their orders, and distributors prove they can deliver on those orders regardless, that only reinforces the distributor's value. Plus, it allows distributor companies to offer additional services—kitting, personalization, drop-shipping, etc.—that save clients time, money and headaches.
"Above all, we all need to make certain we are adding real value and that it is obvious to our customers," Jenkins recently wrote for Promo Marketing. "Provide new ideas and solutions while helping them track the ROI of the promotion whenever possible. Make sure they know that they have a sourcing expert tied to their product orders and promotions. Communicate some of your wins in finding the solution to their current needs. Demonstrate what you bring to them as a buffer between the factories, suppliers, and their events and giveaways."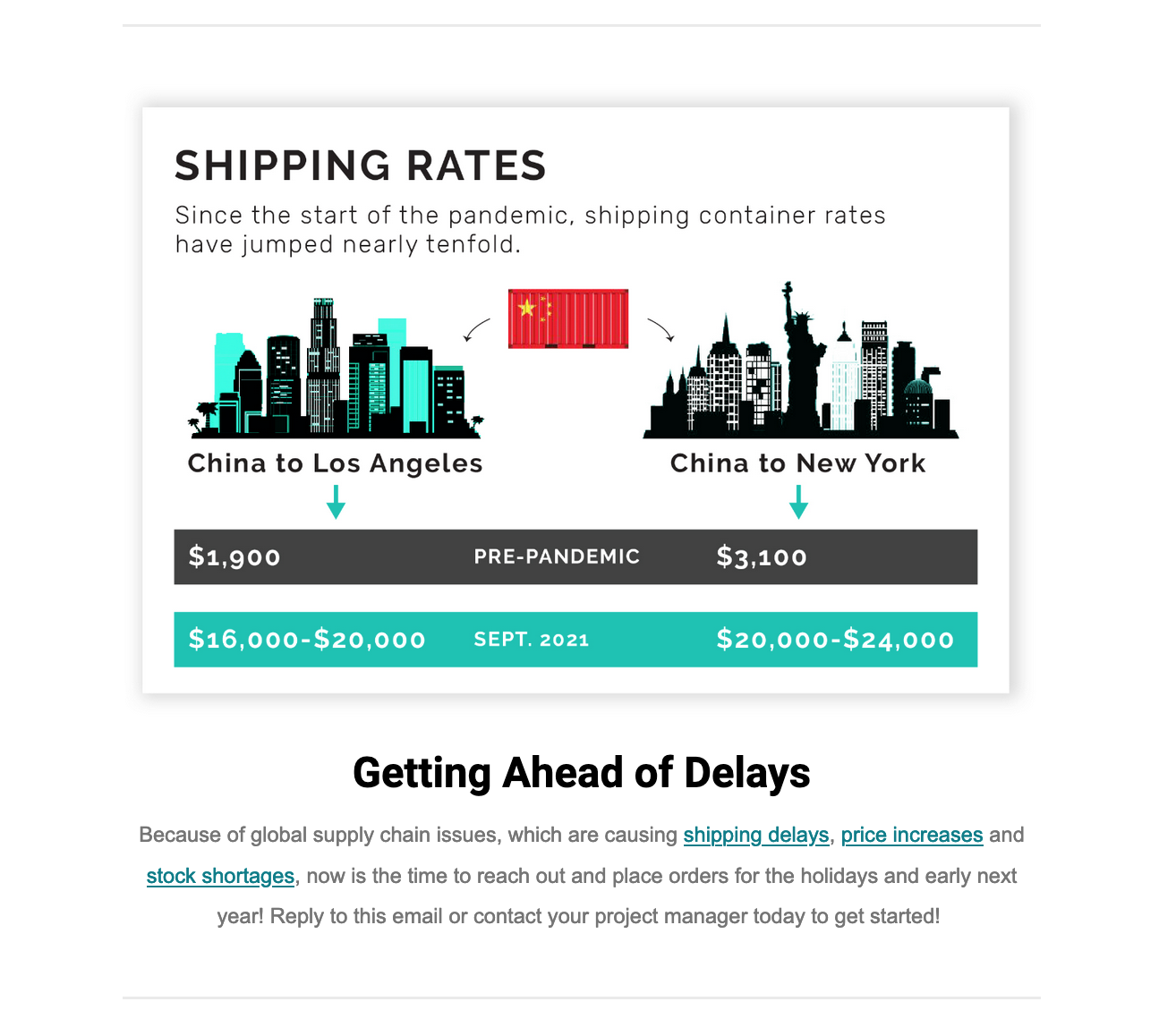 Exploring Options
Of course, even if customers are understanding of higher prices, they may simply not have room in their budgets. In these cases, distributors still have options. They can, as Jenkins notes, suggest a different distribution schedule (fewer units, less frequent promotions, etc.) that allows the client to use the same products but at lower quantities, reducing the total cost. Or, distributors can absorb the price difference, sacrificing in the short term to preserve a customer relationship in the long run.
"If there are instances where we need to eat some or all of that increase, it's important to remember that the best clients are those who you can build lasting relationships with and see repeat orders from over a long period of time," says Olson. "One or two orders for a good client that might be lower than your desired margin is a small price to pay to continue an important relationship."
But the best option might simply come down to what Jaworski said above: "By learning our buyer's 'why,' we can help pivot their order to achieve their objective within their set budget." This is the consultative approach at work. Customers don't necessarily need a product—they need a solution to a certain marketing or advertising or employee engagement challenge. Once distributors identify the "why," the "how" becomes far more flexible, even if the budget remains fixed.
If the "best" version of a product is too expensive, there's probably a "good" or "better" version that costs less. Maybe there's a lower-cost decoration option that achieves a similar result. Maybe a similar product is available from a different supplier. If distributors turn the conversation away from product and price, and instead focus on the customer's "why," they open up a virtually unlimited number of potential solutions.
"If customers are price conscious, we have so many options that fit within their budget," says Jaworski. "Our strategy remains the same: helping our customers make the most impact with whatever budget they have. It's challenged us to be more creative with our offering, which I think has helped us have success and continue to grow."
For Whitestone Branding, supplier relationships have been an integral part of that strategy. Jaworski says the company has made it a priority to maintain and grow its supplier network by attending trade shows and one-on-one meetings (both in-person and virtual). This heavy emphasis on relationship-building has allowed it to "build out backup plans A to Z," Jaworski says, and has helped the Whitestone team think more creatively and strategically.
Olson has had a similar experience. "Remember that we have access to thousands of vendors," he says. "It's generally fine to work with the larger vendors in our industry as much as you want. They typically have deep stock, good pricing and fast turn times. However, even the large suppliers are having issues with stock and production times. This is a great opportunity to build or rekindle relationships with other suppliers that might not always be top-of-mind. Take the extra time to look around when quoting a project, because there are still suppliers that have weathered stock and production issues and are ready to help."
Yes, prices are up, and it may be some time before they come back down, if they ever come down at all. But the distributor's job is the same as it always was: Do whatever it takes to help customers achieve and exceed their goals while coming in at or under budget. That might be tougher than it was a year or two ago, but it's far from impossible. And, ultimately, if customers are leaving over price, they may not be the kind of customers worth keeping anyway.
"We're all humans and dealing with these issues, just at different capacities," says Jaworski. "At the end of the day, our job is to make our clients look good. We have the same end goal. Be human with your clients and let them know that. By working together to reach the same objective, trust grows—and a trustworthy business relationship is priceless."